Next Excellence Series. What is going on with Housing? Opportunities and Challenges in Property
14 June 2023 | Events
Join us for the next Te Whare Wānaka o Aoraki Lincoln University Excellence Series as we hear from Professor Graham Squires who will speak about what is happening in housing and property.
Graham will explore domestic and international housing issues, based on over twenty years of research experience in this area. Core interests to be discussed include economics, planning, valuation, geography, development, management, finance, technology, environment, society, and politics. The talk will explore both opportunities and challenges for housing with respect to equity and climate change.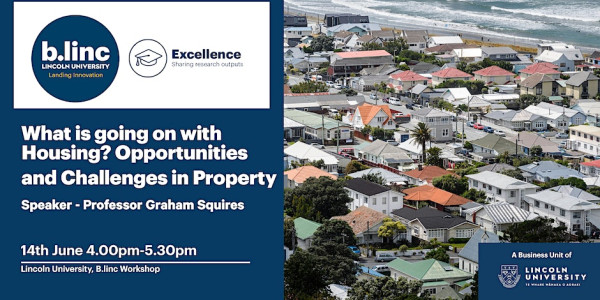 The Lincoln University Excellence Series
This series has been designed to showcase leadership in various disciplines including the opportunity to promote the University's distinctive and impactful applied research. This series celebrates research excellence and promotes a public forum to a broader community, highlighting Lincoln University's specialist land-based contribution to driving New Zealand's prosperity and intergenerational wellbeing.
Graham Squires is a Professor of Property Studies at Lincoln University, New Zealand. He is the author of 6 books all published by Routledge in the Property discipline areas of Economics, Property, Planning, Urban and Environmental Studies, Real Estate Development, and Construction Procurement. He encourages mixed-method approaches to research using institutional qualitative, and spatial-statistical quantitative techniques.
Grant funders include The World Bank (WB), The United Nations (UN), National Government Departments, National Research Councils, and The Fulbright Commission (US-UK) where he was Visiting Researcher at The University of California, Berkeley. Graham serves as President of the Pacific Rim Real Estate Society (PRRES), and Board Director of the International Real Estate Society (IRES). Further, he serves as a board member of the New Zealand Association of Economists (NZAE), and is the Co-Editor-In-Chief of the journal, Property Management (PM)."