Quarter century of visiting Lincoln celebrated
08 February 2023 | News
Lesa Griffiths and Susan Garey are marking 25 years of bringing University of Delaware students to Lincoln.
They have made a dozen trips down under since 1999, and are celebrating early as they may not be back for two or three years.
Each visit they stay for a month with a group on the Lincoln campus exploring New Zealand farming.
Lesa is a Professor of Animal Science at Delaware, while Susan is part of the Cooperative Extension Service, and both are Study Abroad Program Co-Directors.
They said while Delaware has farms of its own, they wanted to show their students a different way of farming utilising different types of land, and New Zealand provided that opportunity.
The 36 second and third year students toured the Lincoln University farms and had some guest lectures from Lincoln academics on-campus. They also visited farms around the region, with one in Hurunui on their itinerary since 1999.
The students also had pre-arranged visits to some of the local attractions but also got free-time to explore for themselves, which Susan said helped them develop soft skills.
Lesa said the students were from a range of majors which included pre-vet medicine, sustainable food systems, entomology and conservation, and few had farming backgrounds.
Student Evyn Apple called the trip the most memorable, and formative month of her life.
This trip has opened doors to novel landscapes, people, and agricultural operations I hadn't realised existed.
"The most interesting thing Kiwi farmers have taught me is the importance of existing within the constraints of one's environment.By letting the land govern production, rather than the other way around, farmers are more self-sufficient, innovative, and sustainable by learning to work alongside nature and not fight it.
"Hiking through beaches and forests, up and down mountains Kiwi's call "wee hills," I have encountered breathtaking wildlife," she added.
"Every experience adds value to you."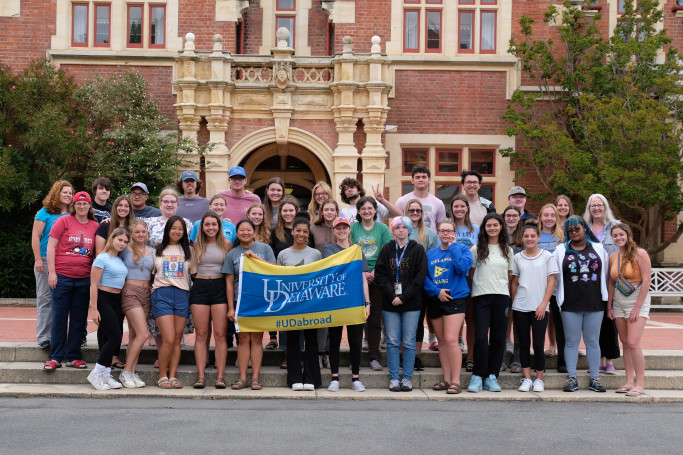 The University of Delaware students, with Susan Garey and Lesa Griffiths on the end of the second row.