Blues and Golds
The annual Blues and Golds Awards recognise LU students who have shown determination to succeed, willingness to embrace personal growth and generosity in their contributions to society.
The awarding of 'Blues' for sporting achievement is well established in schools, colleges and universities that follow British conventions. The tradition started at Oxford and Cambridge universities and, with their colours both being shades of blue, the awards were soon coined "The Blues".
Lincoln University has been awarding Blues to celebrate sporting excellence since the 1940s. In recent years, we've introduced the 'Golds' awards for cultural and non-sporting achievements.
Blues are awarded for athletic and sporting excellence

Golds are awarded for cultural and community service excellence.
2021 Winners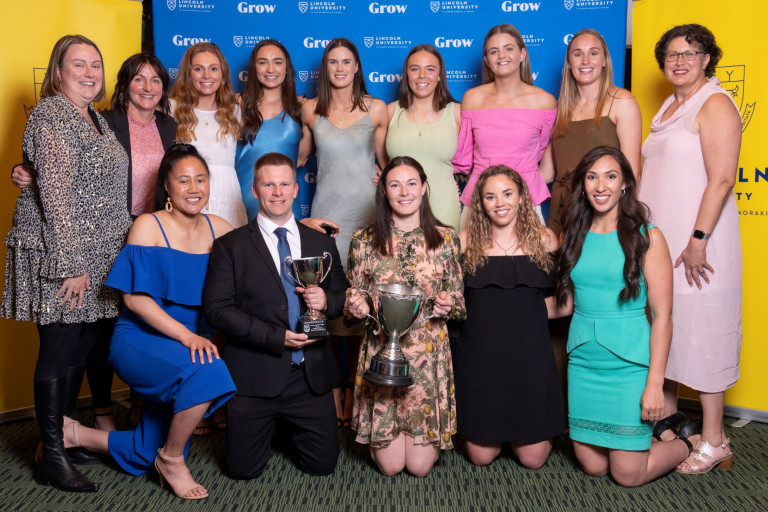 Team of the Year 2021
The LU premier netballers.
Blues Awards - Sporting Excellence
Natasha Ryan- Netball
Member of the Mainland Netball National League team for 2021 as well as Lincoln Premiers.
Will Gilbert -Rowing

Gold in the NZ premier eights in 2021, silver U22 pair, bronze for the U22 double. Selected in the 2021 New Zealand World University team as well as for the Rowing New Zealand National Pathway programme.

Matthew White - Rowing
Selected for New Zealand World University Rowing Team in 2021.
Corey Kellow - Rugby
Selected for the Canterbury NPC rugby side in 2021.
Emma Dermody - Rugby
Selected for the Canterbury team in the Farah Palmer Cup (FPC) in 2021 and the NZ Universities Rugby Team. Also attended the NZ Black Ferns Development Camp.
Georgia Ponsonby - Rugby
Member of Canterbury Women's Farah Palmer Cup squad in 2021 as well as the Black Ferns Wider Training Squad.
Harrison Dakin - Rugby
Selected for the NZ Universities Rugby team in 2021
Ryan Barnes - Rugby
Selected for the NZ Universities Rugby team in 2021
Karla Wright-Akeli- Rugby
Represented Tasman in the Farah Palmer Cup in 2021
Jack Staples - Triathalon
National Triathlon Champion and overall junior series winner in the Under 19 Series in 2021. Selected to represent New Zealand at the junior elite world champs in Bermuda
Ella Harris - Karate
New Zealand Karate representative. NZ Open Female 16/17yrs Kumite National Champion 2021, NZ Cup 18+ years Female Kumite National Champion 2021 and the Kata Female U21 years Canterbury Champion 2021.
Giles Black - Volleyball
Represented Canterbury and the Southern Pounamu (South Island team) at representative and elite level for NZ Indoor Volleyball. Canterbury Men's Volleyball Team Captain and winner of the 2021 New Zealand Inter-Provincial Championships, and named in Tournament Team for Inter-Provincial Championships 2021.
Andrew Allan - Athletics
Silver medal in the open men's triple jump at the NZ athletics championships in 2021.
Ellie Duncan - Hockey
Selected for New Zealand Hockey Under 21 North versus South series in March 2021. Member of the Otago senior women's team 2021.
Louis Beckert - Hockey
Canterbury Cavaliers Open Men's Team member and the no.1 goalkeeper for 2021 as well as a member of the Premier Hockey League for 2021.
Olivia Dyer - Hockey
Selected for the Canterbury Senior Woman's Mainland Hockey Cup side in 2021 as well as Otago Woman's Ford National Hockey Championship side in 2021.
Ben Hall - Basketball
Selected for the Canterbury Rams NBL team 2021
Brittany Richards - Basketball
Selected for the travelling 12 for Canterbury Wildcats Basketball team to compete in the National Women's Sal's NBL in 2021.
Emma Trolove - Basketball
Selected for Canterbury Wildcats 5x5 and 3x3 teams in 2021.
Pafe Momoisea- Basketball
Member of the Otago Nuggets NBL side in 2021 and selected for the 3x3 Otago Nuggets team in the Schick Cup.
Rosalia Samia - Basketball
Canterbury Wildcat in 2021.Also selected to attend a Tall Ferns 3x3 training camp.
Jared Burnett - Basketball
Selected for Canterbury Rams NBL side in 2021

Lauryn Hippolite- Basketball

Sportsperson of the Year

Captain of the Canterbury Wildcats in 2021. Also part of the New Zealand Tall Ferns 2021 team which travelled to Amman, Jordan for the Asia Cup Qualifying Tournament
Fraser Sheat - Cricket
Canterbury Cricket professional contract in 20/21. Member of their Plunket Shield and Ford Trophy winning teams.
Kate Sims - Cricket
Canterbury Cricket Magicians Women's Team and selected to attend the White Ferns Camp Feb 2021. Named in New Zealand XI side which played England.
Jasmine Donald - Football
Member of Ngā Wahine Whanapoikiri New Zealand Māori women's football team, as well as Canterbury United Pride in the National Women's League.

Team of the Year

LU Premier Netball Team

Won the Christchurch Netball Centre Premier Division in 2021
Gold Awards - Service Excellence

Amy Wells

Brownie Leader, Rover Scout, Lincoln Student Volunteer Army cofounder, as well as a Handie Landies member involved in the South Canterbury flood response. She is also a campus class representative, and Vice-President of the Soil Society.

Rob Earl

Creator of, and facilitator for, student wellbeing programme WellMates, a Respectfully Lincoln facilitator and senior coach, and President of student rainbow club Space, in 2021.

Ziwei Wang

Class representative who has assisted international students not able to return to New Zealand because of COVID-19 restrictions. She has also volunteered for Women's Refuge and Plunket, and is a peer counselor for new mothers.
Dorah Ayaa
Empowered women in Uganda through improving financial literacy and providing market access for their dairy products, leading to poverty reduction and improved income levels
Blues and Golds Awards Dinner 2019