Three Minute Thesis
Each year, our research students have the opportunity to compete in the Three Minute Thesis (3MT®) competition.
3MT challenges research students to answer the question, 'What are you researching?', in no more than three minutes and with only one powerpoint slide. The three-minute presentation should be pitched to an intelligent but non-academic audience.

The competition provides research students with valuable practice in communicating their research clearly and concisely to a general audience.

They will develop their ability to tell an engaging research story, build their presentation and public speaking skills, improve their peer and industry networks, increase their confidence and employability and gain exposure for their research.
Three Minute Thesis 2022

3MT 2022 heats will take place in D6 (SoLA Building) on Tuesday 9 and Wednesday 10 August, 12.30pm-1.30pm each day.

The competition final will be held on Thursday 11 August, 5.30pm-7.30pm in S1 (Stewart Building).

Staff and students are encouraged to attend the heats and final to support Lincoln's student researchers.
Heat 1 timetable (Tuesday 9 August, 12.30pm-1.30pm, D6)
| | | | |
| --- | --- | --- | --- |
| Time | Presenter | Category | Thesis title |
| 12.30pm | MC (welcome, housekeeping) | | |
| 12.35pm | Julio Botero | PhD | Institutional determinants and the performance of emerging horticultural ventures in New Zealand |
| 12.40pm | Damola Adejoro | PhD | Does it take a community to save a grapevine? |
| 12.45pm | Yanyu Zhang | PhD | Is pea cooking water drinkable? |
| 12.50pm | Chen Chen | PhD | How do goals influence strategy at household level? |
| 12.55pm | Ghouse Shaikh Kulsum | PhD | Developing grapevine phenological models in response to environmental and management factors |
| 1.00pm | Prince Annor | PhD | GlobalGAP adoption and its impacts on net farm income for small-scale pineapple farmers in Ghana |
| 1.05pm | Dan Smith | PhD | Key success factors for survival and resilience in small rural farm-support agribusiness |
| 1.10pm | Chrystal O'Connor | PhD | Kawakawa and the hungry little caterpillar |
| 1.15pm | Suphicha Muangsri | PhD | Untapped potential of industrial land for supplementary coastal city flood mitigation |
| 1.25pm | Michelle Barry | PhD | Climate Change and Agriculture: Diversifying to Adapt |
Heat 2 timetable (Wednesday 10 August, 12.30pm-1.30pm, D6)
| | | | |
| --- | --- | --- | --- |
| Time | Presenter | Category | Thesis title |
| 12.30pm | MC (welcome, housekeeping) | | |
| 12.35pm | Jeremy Kilgour | Bachelor of Agricultural Science (Honours) | Does variation in leaf to bulb rations and nitrogen content of beta vulgaris crops impact dietary nitrogen intake in wintering cattle? |
| 12.40pm | Maggie Phiri | PhD | Gender, institutions and agricultural development |
| 12.45pm | Jodanne Aitken | PhD | Kea habitat use in human-influenced habitats in New Zealand |
| 12.50pm | Denian Cheng | PhD | Authenticating the role of local food as a tourist attraction |
| 12.55pm | James Eggers | Masters | Taking stock of New Zealand's native birds |
| 1.00pm | Neleesha Shanthirathna | PhD | SRI funds' performance persistence |
| 1.05pm | Jabus Kok | PhD | The future of sustainable dairy farming in New Zealand |
| 1.10pm | Nancy Huynh | PhD | Farm tourism involvement and farmer's self- identity: the chicken and the egg? |
| 1.15pm | Sameul Seba | PhD | Improving the performance of fruit value chains in Ethiopia: A system dynamics approach |
| 1.20pm | Lucy Hall | PhD | The trade-offs when choosing milking times on pasture based dairy farms |
| 1.25pm | Jay McKendrey | Masters | The ups and downs of native yeast populations at Greystone |
| 1.30pm | Som Jeon | PhD | Copper and soil functionality |

Additional information
Research must be presented in under three minutes with only one PowerPoint presentation slide. No additional electronic media or props are allowed. Presentations should be pitched to an intelligent but non-academic audience.
$1000, $500 and $100 prizes will be awarded to the top participants.
The top-placed Master's contestant will represent Lincoln University at the national 3MT Masters Inter-University Challenge.
The highest placed PhD contestant will represent the university at the 2022 U21 3MT virtual competition.
All PhD and research Master's students are encouraged to take part in 3MT, as it offers a chance to raise their profile amongst 900 participating universities from more than 80 countries.
Three Minute Thesis 2021
PhD student Minoo Mohajer won the 3MT grand prize in 2021. Her research, which focuses on improving wine quality and yield, shows that a having balanced vine can produce better grapes in higher numbers.

A balanced vine means having a relatively equal mix of fruit, leaves, roots and chutes and knowing when the leaves should be removed.

Minoo's thesis investigates the best conditions for removing leaves to help farmers and winemakers make more sustainable and cost-effective decisions.

PhD student Kati Hewitt came second for her research on dealing with pastoral insect pests in the face of climate change.

Her thesis aims to future-proof integrated pest management strategies by improving knowledge of how pastures perform when exposed to resource limitation and insect feeding at the same time, a combination often seen in the farming world.

Priscilla Creppy won the Masters prize for her research on helping rice farmers in Ghana to improve the marketability of their product.

Her joint venture model would involve subsistence farmers pooling their resources with strategy partners to improve the quality of their rice and provide other advantages such as adequate post-harvest techniques and better packaging.

Her thesis involves canvassing the farmers' opinions to explore their needs and preferences.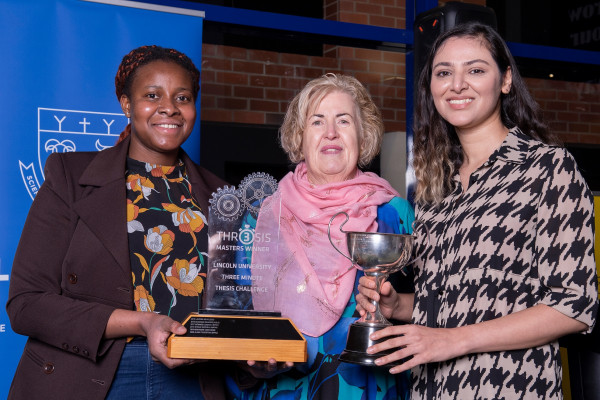 2021 3MT winners Priscilla Creppy (Masters), left, and Minoo Mohajer (PhD), right, pictured with Assistant Vice-Chancellor Learning and Teaching, Lorraine Petelo.