Three Minute Thesis
Each year, our research students have the opportunity to compete in the Three Minute Thesis (3MT®) competition.
3MT challenges research students to answer the question, 'What are you researching?', in no more than three minutes and with only one powerpoint slide. The three-minute presentation should be pitched to an intelligent but non-academic audience.
The competition represents an outstanding showcase of the exceptional talent and high calibre of research carried out by our students.
Three Minute Thesis 2020
2020 thesis topics ranged from analysing shiitake mushrooms for their ability to promote good bacteria to investigating a potential positive side to corporate tax avoidance. Another topic involved assessing the impact of an increasingly automated society in terms of economic performance and possible job losses.
PhD student Cameron Marshall won the 3MT grand prize in 2020. His research, which received national media attention, indicates that some dairy cows are genetically predisposed to excrete less nitrogen into soil. This discovery could have major implications for farmers. Cameron was awarded $1000, a trophy and the opportunity to represent Lincoln at the 2020 Virtual Asia-Pacific 3MT Competition.

Alana Thurston won the Masters prize for her presentation on finding a solution to kauri dieback by investigating the role that fungicides might play in treating the disease. She received $500 and the chance to represent Lincoln at the national 3MT Masters Inter-University Challenge.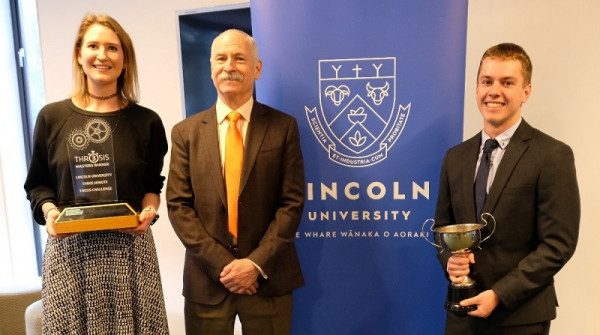 2020 3MT winners Alana Thurston (Masters) and Cameron Marshall (PhD) pictured with Acting Vice-Chancellor Professor Bruce McKenzie.