Brewing student quenches thirst for crafting own beer
18 August 2022 | News
A Lincoln student is getting a refreshing taste of the brewer's lifestyle, having produced, marketed and sold his first craft beer as part of a new qualification that kicked off in 2022.
The Graduate Diploma in Brewing and Fermentation is the first of its kind in the country and has offered Ben Holmes the ability to sell his creation, the Hazy Professor, on tap at Lincoln's café and bar, Mrs O's.

The experience was all beer and skittles, as the brew proved supremely popular, selling out in its first week.

Ben described the Hazy Professor as a New England IPA-style beer, "unfiltered as your average academic and a bit spicy off the tongue".

"With citrus and grapefruit notes, it's a great accompaniment to any pondering philosophical debates, whilst not looking to cloud your judgement," the beer's description read.

The inspiration for it initially came from Ben's dad, an academic who has worked as a Pro Vice-Chancellor.

"I had the idea and design for about six-to-eight years, so it was amazing to finally have it realised," Ben said.

As the first of three trial beers, it is being followed up with two more experimental creations before Ben develops a product to be commercialised and served at Kaiser Breweries, where he is gaining work experience as part of the graduate diploma.
Lecturer in Brewing & Fermentation, Dr Leo Vanhanen, said that Ben had taken complete ownership of the Hazy Professor.
"The recipe was Ben's design and he put the hop mixture together as well as marketing it, creating the label of the design, writing a description of the beer and being involved in aspects of the brewing at our on-campus brewery.

"The graduate diploma allows you to focus on all of these areas, so it can open students up to a broad range of career options, from marketing or horticulture in the hops industry to brewing."

Dr Vanhanen said the qualification offered work integrated learning, with one day a week spent at a brewery off-site.

"Here in Canterbury, we're at the centre of the industry, as there are over 16 brew labels in town. The community is very well connected and there's lots of collaboration.

"Through the diploma, Ben has secured work experience at Kaiser Breweries' commercial site in Hornby and will look at producing a commercial upscale beer to sell at the end of the year."

Creating and commercialising craft beers is a long way from Ben's pre-Covid vocation as an international tour guide, which came to an end due to the pandemic, but there are certainly transferrable skills involved.

"My original educational background is in science, as I have a BSc in Chemistry, so I had always thought about pursuing something based in the food and beverage sector," Ben said.
"My experience in tourism gave me insight into global and domestic markets, consumer trends and network connections through hospo, all of which are helpful."

His end goal is to run his own brew pub, but he wants to start out working in a commercial setting first.

"I've got quite a passion for food and beverage pairings, so I'd like to create and design beers that pair with the food menu, especially in New Zealand, where there's a diverse range of specialist food areas including Marlborough seafood, Canterbury lamb, Waikato produce and Canterbury high country root veggies and grains."

He said a lot of food and beverage tours were based around wine, "but there aren't a huge number associated with beer", a scenario he would like to change.

"A lot of brew pubs in the degustation area focus on their menu, but I would focus more on the beverage and which food could match up, blending the two together.

"I'm a country kid at heart and love that country pub feel, but I also like the idea of having a more experimental setting, still offering genuine homely authenticity but being a bit out of the box as well."

In terms of the future of the graduate diploma, Dr Vanhanen said that the possibilities were endless, and this was only the beginning.

"I would like to see a craft brewery on campus in the future, where students can showcase and sell their product. Lincoln is the perfect place for innovation in beer as we have a hop garden, which offers the full cycle in terms of growing hops, developing and designing beers, sales and marketing and retail."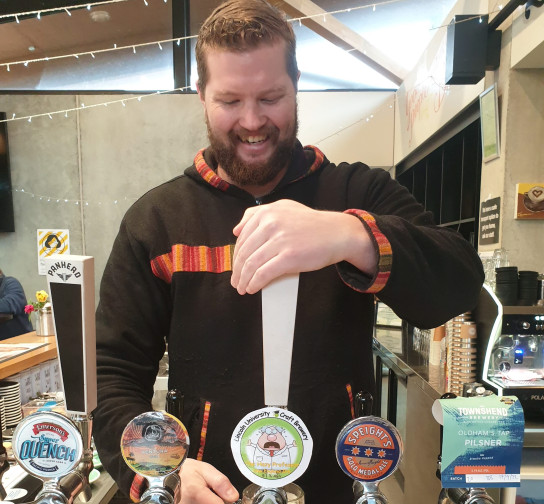 Ben Holmes pours a pint of his creation, the Hazy Professor, at Mrs O's.