Brothers to compete for Young Farmer honours
17 April 2023 | News
Sibling rivalry has been added to the intense competition of the FMG Young Farmer of the Year Grand Final after the latest regional qualifier.
Lincoln alumnus Peter O'Connor claimed the Aorangi title last weekend in Ashburton, and will join his brother, Nick, in July's Grand Final.

Nick took out the Tasman regional earlier this month, and is in his third year studying for a Bachelor of Agriculture at Lincoln University.

The brothers grew up "helping Dad out" on a 600-cow dairy farm in Westport. Just who picked up the most knowledge and skills during the West Coast sunrises in the milking shed will be revealed in the showdown.

Dad might have a few ideas about who was listening most attentively, but will probably keep them to himself, and Team O'Connor is sure to have plenty of support.

Bachelor of Agricultural Science (Honours) graduate Peter made the final on his fourth attempt, heading off fellow alumni Jess Cunliffe (a valuer with a Bachelor in Land and Property Management), George Campbell (a mixed-cropping and sheep, beef and deer farmer with a Bachelor of Agriculture) and arable farmer Robbie Wigley, who has a Bachelor of Agricultural Science.
Peter is the Farm Manager at Lyndhurst Dairy Farm, a 400-cow dairy farm operation 10 minutes from Methven.
The pair join fellow alumni Patrick Crawshaw, who has a Bachelor of Commerce (Agriculture), in the Grand Final. There's only one more regional to go, the northern final on 28-29 April.
As a sponsor and contributor to the event, Lincoln is proud to produce so many of the talented young farmers who will aim to be crowned FMG Young Farmer of the Year.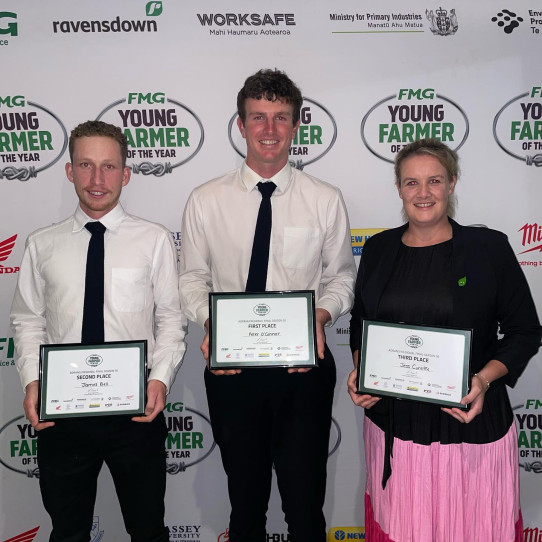 Peter, centre, with second-placed James Bell, and Jess Cunliffe, who came third.