Dairy industry 'should prioritise health over production'
05 October 2023 | News
New Zealand dairy farming could be in for a revolution if Lincoln University's Professor Pablo Gregorini has his way.
Speaking to the NZ Farmers' Weekly recently, he said the industry should prioritise health over production, and through the Integral Health Dairy Farm project, he is working to develop a new way of dairying that meets the needs of farmers, animals and consumers alike.

Professor Gregorini's plan involves a holistic approach that takes into account everything on the farm, as well as the environment and the wider community. To design and test this radically different way of farming, he has worked with a team of multidisciplinary and international experts comprising landscape ecologists, landscape architects, scientists and academics.

The Integral Health Dairy Farm project, which Professor Gregorini is leading with research manager Dr Anita Fleming, seeks to address the multiple needs of farmers, animals, and consumers while enhancing farming's standing in the community. It aims to satisfy an increasingly picky market that seeks dairy products from farms prioritising sustainability and animal welfare.

The 43ha, 100-cow farmlet, located on Lincoln's Ashley Dene Research and Development Station, will be developed over five years. Work has started with the planting of native and exotic trees and shrubs that will provide shade and shelter, as well as medicinal plants for the cows to self-medicate.

By autumn next year, the team aims to have sown new pastures over the entire farmlet, with a wide range of biochemically rich plants set in a way that is more functional for the animal.

"We are even incorporating plant species like medicinal wildflowers to test aromatherapy," Professor Gregorini said. "There is already data that demonstrates some of the aromas can get into the bloodstream of the cow in three seconds, with a potential impact on the cows' wellbeing."

Evidence shows that functionally diverse pastures will not only benefit the soil but also increase animal production by an average of 25%.

Cows on the farmlet are already ruminating longer, which Professor Gregorini said was an indication of welfare and wellbeing.

Learn more here.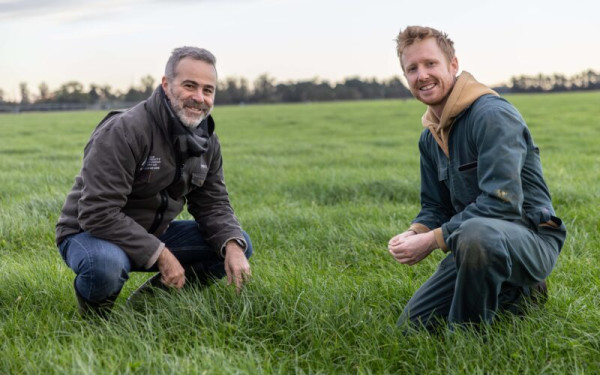 Lincoln University Professor Pablo Gregorini with Ashely Dene Research Development Station manager Riki Burgess.