Determination bears fruit for viticulture graduates
22 August 2022 | News
Three Lincoln University graduates are tasting success as regional finalists in the 2022 Young Viticulturist of the Year Competition.
Laura Marston (Hawke's Bay), Katie Cameron (Wairarapa) and Nina Downer (Otago) have received media attention recently after each being named their region's top viticulturist. All three honed their skills with our Bachelor of Viticulture and Oenology and will be heading to the competition finals in Marlborough on 30 August.

After graduating from Lincoln, Laura secured a role as a Viticulture Cadet at Craggy Range. She told New Zealand Winegrower Magazine that pursuing a career in the grape-growing industry was a perfect option, due to her love of science and desire to work in the outdoors.

Asked to name the most interesting developments in viticulture, she cited the implementation of organic principles into vineyards.

"We are future-proofing our vineyards by giving back to our land through techniques such as composting, eliminating herbicide and establishing cover cropping," she said.

"It is also exciting to see 'soft pruning' being more widely adopted to maintain healthy sap flow and encourage vine longevity.

"I am interested in the move towards using a less frequent irrigation to encourage the vines' roots to grow deeper and become more self-reliant."

In terms of the future of the industry in New Zealand, Laura said she expected producers to focus on creating higher quality wine using organic principles.

"I think this will continue to grow a strong brand internationally."

Wairarapa winner Katie travelled overseas after graduating from Lincoln and accepted a scholarship to study for a Master of Viticulture and Oenology in France, then Italy. She now works as a Technical Assistant at Escarpment Winery.

Like Laura, she's always been passionate about plant science and working outdoors, so growing a career in viticulture was the perfect goal.

According to Katie's interview with New Zealand Winegrower, it was her first harvest at Escarpment in 2020 that cemented her love for Aotearoa's wine industry, especially the Wairarapa region.

Excited see the industry exploring improvements in sustainable grape growing, she has a particular interest in native cover crop species, vineyard mapping and technology.

Katie said she wanted to see New Zealand "continue to focus on producing high quality wines with distinctive regional character that rival the very best wine growing countries".

Otago winner Nina works at Felton Road Wines, a position she has held for two years. She told the Otago Daily Times that she'd always wanted to become a viticulturist, having grown up on a farm in Wairarapa, where she developed a passion for soil, plants and working outdoors.

During the practical component of the Bachelor of Viticulture and Oenology, Nina had the opportunity to work at Dry River Wines in Martinborough, which allowed her to develop her skills while staying close to home.

She said she enjoyed the diversity of the job and being part of a small team, and made the move to Otago during the "Covid harvest" of 2020 to take on her role at Felton Road Wines.

Now in its 17th year, the New Zealand Young Viticulturist of the Year Competition is based on six regional contests, culminating in a national final. It offers an opportunity for viticulturists aged 30 and under to upskill, grow their confidence and widen their networks.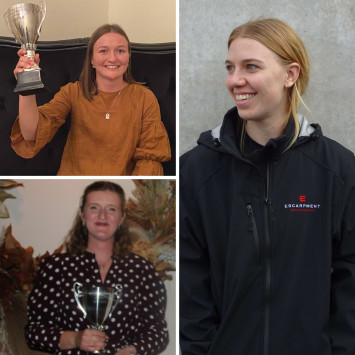 Clockwise from top left, Laura Martson, Katie Cameron and Nina Downer.