Fonterra joins South Island Dairying Demonstration Centre (SIDDC)
04 October 2023 | News
Chair of the SIDDC Partners Forum and Vice-Chancellor of Te Whare Wānaka o Aoraki Lincoln University, Professor Grant Edwards, has today announced that Fonterra has joined the SIDDC partnership.
Formed in 2001, SIDDC is a partnership between Lincoln University, DairyNZ, Ravensdown, LIC, AgResearch, dairy farmers through SIDE and now Fonterra. The partnership aims to lead and demonstrate the very best sustainable dairy production systems.
In welcoming the global dairy co-operative to SIDDC, Professor Edwards said that Fonterra's participation will have significant and far-reaching benefits for the partnership, and for the wider dairy farming sector.
"The addition of Fonterra to SIDDC will harness the global dairy co-operative's unique and world-leading understanding of current and future needs, expectations and demands of milk and dairy consumers.
"Fonterra's contribution will complement the existing partner expertise in extension, nutrient management, feed production, animal improvement, farm information systems and the overall management of high-performing sustainable pastoral dairy farms.
"The purpose of SIDDC is to demonstrate tomorrow's dairy farming today, and Fonterra's contribution will significantly strengthen the partnership's strategic intent of leading the future sustainable success of dairying in New Zealand," said Professor Edwards.
Mat Cullen, Fonterra's Regional Head of South Island, says collaborating with partners is key to strengthening the sustainability of dairy farms.
"There is huge value in working together to address some of the challenges New Zealand dairy farmers are facing from both a local and global context.
"Partnering with SIDCC gives the Co-operative a platform to showcase global expertise and emerging practices, with the aim of creating practical tools for farmers.
"We look forward to working together to deliver better environmental outcomes and sustainable value for generations to come."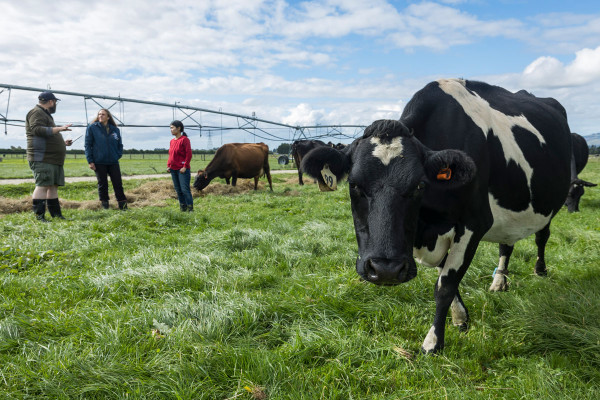 Lincoln University Dairy Farm (LUDF)
LUDF, a 186-hectare demonstration dairy farm outside Lincoln township, aims to maximise sustainable, profitable farming by optimising productivity, environmental footprint and animal welfare targets.
The farm delivers the demonstration of successful dairy farm practices for the wider dairy community. It is operated by South Island Dairying Demonstration Centre (SIDCC), an industry-funded partnership between Lincoln University, DairyNZ, Ravensdown, SIDE, LIC, AgResearch and Fonterra.
LUDF is also a hub where dairy farmers and other industry stakeholders gather to discuss new knowledge, skills, technology solutions and innovation impacting the sector.
In 2021 LUDF extended its leadership position within the dairy farming sector by introducing three new farm systems initiatives to expand its focus and extend its outlook:
Variable milking frequency
Moving the forage base to include plantain
Replacement rate reduction.
LUDF's systems, operations and performance are transparently shared to allow farms to benchmark against their own results. The farm's plans and initiatives are also shared through Focus Days, reports and weekly farm walk notes that are freely accessible to everyone.
For further information, contact media@lincoln.ac.nz.