Friends and family offer fitting tribute to celebrated winemaker
01 December 2022 | News
A group of winemaker friends and family of the late Andy Anderson, a hugely talented Lincoln alumnus, have released a world-class Central Otago pinot noir in his honour.
Proceeds from the sale of the wine – labelled "Andy" and made of grapes sourced from some of his favourite Central Otago vineyards – will go towards a Lincoln University viticulture and oenology scholarship to help foster talented, enthusiastic winemakers.

The official launch of the wine took place during two evenings in Cambridge on 18 November and Queenstown's Bespoke Kitchen last week, with Vice-Chancellor Professor Grant Edwards and representatives from Lincoln's Alumni and Development Team attending the latter event.

Andy, who sadly passed away from cancer in 2019 at the age of 50, was one of the first graduates of Lincoln's Bachelor of Viticulture and Oenology in 1998. He went on to gain many accolades in the winemaking field, working for wineries in several different countries around the world.

As head winemaker at Waikato's Takapoto Estate vineyard, Andy was the first New Zealander to win the International Wine and Spirit Competition Pinot Noir Trophy and the first person in the world to win it twice (in 2017 and 2018).

For this reason, Andy's friends said via The Wine for Andy website that creating a tribute for their mate had been no easy task, given his illustrious background.

However, they came up with a wine that they hope "he would proudly hold on the international podium and call his own", describing the limited-edition pinot noir as "a fitting tribute to the life, legacy and talent of beloved Central Otago winemaker Andy Anderson".

"The fruit was handpicked from selected blocks in Gibbston Valley, the coolest of the Central Otago subregions," the website explained. "Andy's old stomping grounds proffered grapes, with Matapari, Brennan and Takapoto Vineyards contributing the fruit."

Timbo Deaker, who graduated with Andy in 1998, told Business Desk recently that the wine had been "made for love".

"It's a loving tribute to a legendary winemaker and everything from the grapes to the winemaking, bottling and packaging has been done for free," he said.

The pinot noir has received extraordinary reviews so far, with Kiwi masters of wine, Cameron Douglas and Bob Campbell, rating it 95 and 94 points respectively.

And "true to his infectious enthusiasm and generous spirit", the annual Andy Anderson Memorial Scholarship in Viticulture and Oenology will enable a third-year Lincoln student to experience a Central Otago vintage each year for a decade. Application details will be available soon.

The Andy Pinot Noir 2020 is available for purchase via the Wine for Andy website, which also includes more information about the life and achievements of Andy Anderson.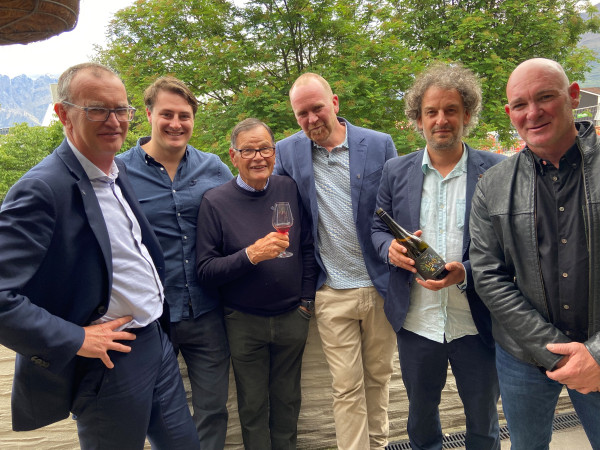 Vice-Chancellor Professor Grant Edwards (far left) at the Queenstown Andy Pinot Noir 2020 launch with Alex Coldicutt, Michael Anderson, Timbo Deaker, Mark Rose and Jason Thomson (the group who developed the wine).