Community heroes and artists sought
14 September 2022 | News
Ishakau Haruna's mahi in running a project in rural Nigeria to improve the quality of education was recognised with a Lincoln University Gold Award in 2020.
The university is again looking to highlight the community heroes and artists among its student body, calling for nominations for its annual Blues and Golds Awards in October.
The Gold section of the awards recognises volunteers who give their time selflessly and those who contribute to the local arts culture, while the Blues recognise Lincoln's sporting superstars.
Nominations (self-nominations are accepted too) close on 21 September, so they need to be in soon.
The past Gold winners reflect a diverse range of commitments towards service and cultural excellence, from work overseas to local volunteering, to projects and programmes on-campus.
In 2018, Julie Gillespie was recognised for the huge role she has played in youth development through the Order of St John.
In 2020, Jodanne Aitken's part in installing an indoor recreational bouldering facility in the LU Gym, to benefit not just the campus community but also the Selwyn district, also claimed a Gold.
In the same year, Lincoln Volunteer Fire Brigade member Ollie Rutland Sims was among the winners, as was Barbera Forster, president of Thursdays in Black, a movement across tertiary campuses and society working towards a world without rape and violence.
Last year again highlighted the diversity of student mahi across the community.
Amy Wells (Brownie leader, Rover Scout, Lincoln Student Volunteer Army co-founder, and Handy Landys member) and Rob Earl (Respectfully Lincoln facilitator and senior coach, President of student rainbow club SPACE, and creator and facilitator for student wellbeing programme, WellMates) both received awards.
Dorah Ayaa, who empowered women in Uganda through improving financial literacy and providing market access for their dairy products, leading to poverty reduction and improved income levels, was recognised too.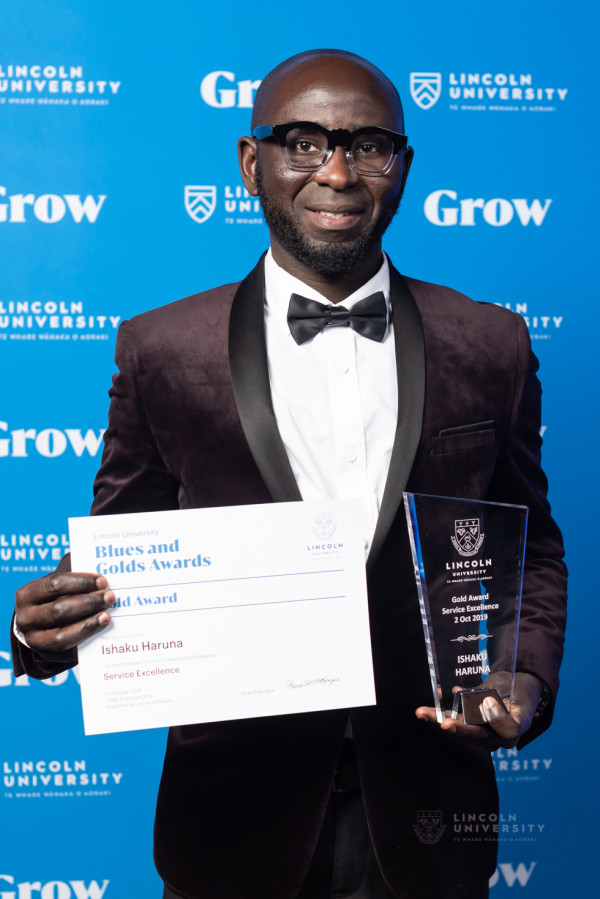 Ishakau Haruna with his Gold Award.