Driver licence handbrake released with help from K'aute Pasifika
27 October 2023 | News
The resumes of Lincoln University Pasifika students are getting a turbo-boost with the help of a North Island organisation.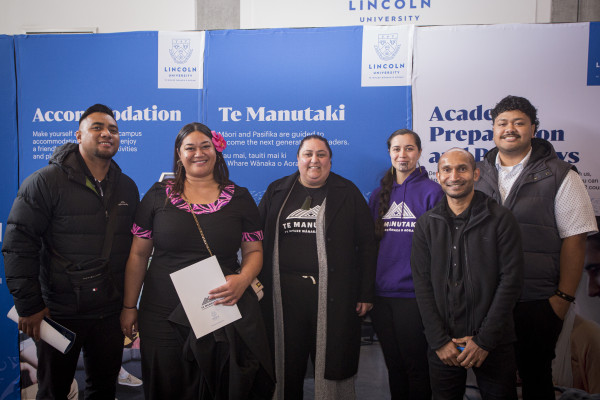 Jay (of K'aute Pasifika), Sinitalela (LUPISA President), TeArohanui, Kihere, (both Te Manutaki), and Stephen and Misi (both K'aute Pasifika).

Hamilton-based K'aute Pasifika supports Pasifika people in a wide range of areas and has helped fund three Lincoln students to gain their drivers' licences, which will enhance their employability. The team also works with secondary students to find the best path for them after they finish high school.

The funding for drivers' licences came about following a visit from members of K'aute Pasifika to Lincoln's recent Open Day, to learn more about the university's programmes and support services.

They met with members of Lincoln's Te Manutaki team, who support Māori and Pasifika students, as well as the Lincoln University Pacific Island Student Association (LUPISA).

During the visit, the team learned that many LUPISA student members couldn't afford to gain their driver's licence, so they decided to assist with funding.

The K'aute Pasifika members loved touring the campus, describing it as beautiful and easy to get around, and said all the staff they met were friendly and welcoming.

They especially enjoyed meeting Lincoln Pasifika students, learning more about why they chose the university.

Lincoln's Student Liaison Team plans to partner with K'aute early next year to hold an information event in Hamilton for prospective Pasifika students, to continue to grow the relationship and encourage students to attend Lincoln.