Handy Landys among Supreme Award winners at Blues and Golds
20 October 2023 | News
A week spent shovelling silt and repairing fences on cyclone-hit Hawke's Bay farms in July earned the Handy Landys a new accolade at Wednesday's Blues and Golds Awards.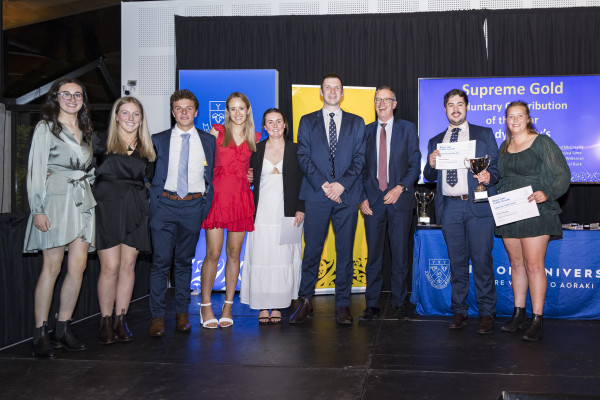 The Handy Landys with Lincoln University Vice-Chancellor Professor Grant Edwards
Brooke Graham, Caitlin Rhodes, Eibhlin Lynch, Emily Irwin, Fergus Lee, Hamish Goatley, Izy Greville, Jed McCready, Jessica Sime, Kate Willemse and Samuel Back earned the Gold Service Excellence - Voluntary Contribution of the Year Award, created this year to recognise a specific altruistic effort.
Lincoln University Vice-Chancellor Professor Grant Edwards presented over 60 awards at the annual event which is held on-campus and recognises a wide range of student achievement in the sporting arena (the Blues), and voluntary mahi done in the community and for their fellow students (the Golds).
The Handy Landys formed after the Kaikoura earthquakes in 2016, as many farmers needed a hand. Its members aim to support the agricultural industry that they are passionate about.
After fundraising to help in the wake of the damage inflicted on farms by Cyclone Gabrielle, they decided boots on the ground were needed and travelled north to help, doing anything required of them.
The Club has worked alongside the Student Volunteer Army with the 2021 flood clean-up around Canterbury, and in April 2022 they helped pick an apple crop as a farmer could not find enough pickers, which enabled the farmer to get his crop away before it spoilt.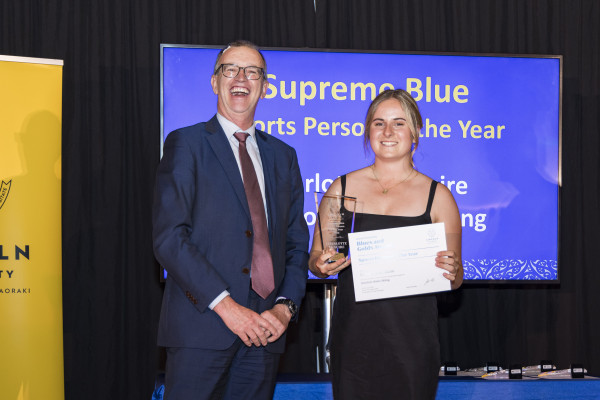 Charlotte McGuire
Barefoot waterskier, Charlotte McGuire, was named Sportsperson of the Year after claiming the national U23 title, while Team of the Year was the women's 3x3 basketball side for the second consecutive time after making another trip to the tertiary world champs, this time in Turkey.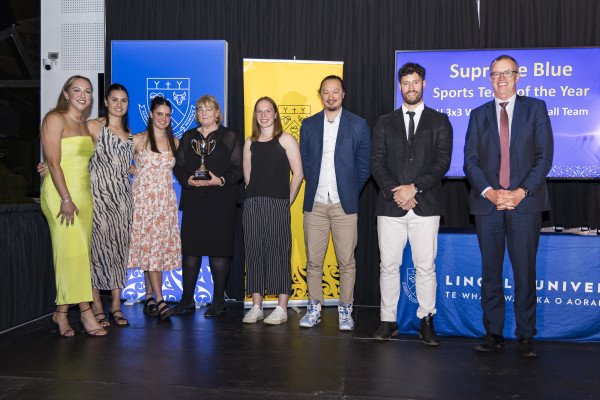 Women's 3X3 basketball team Manager: Hoani Smith Coach: Josh Thomson Team members: Grace McGirr, Kate Herman, Lauryn Hippolite, Rosalia Samia (team sponsor Suzie Mason is also pictured).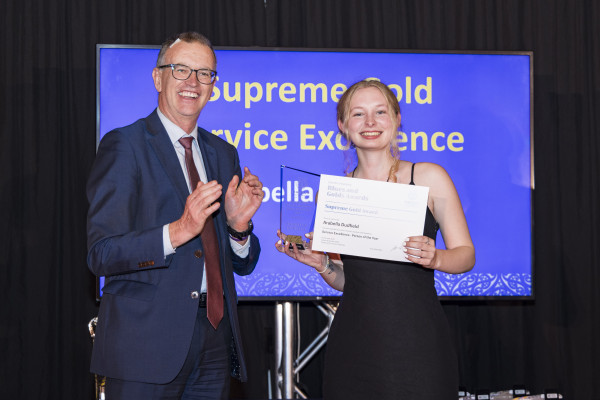 Arabella Dudfield
Rainbow advocate Arabella Dudfield won her second Supreme Service Excellence Gold Award for her tireless efforts organising Pride events and working to make the campus more inclusive while Brooklyn Greer-Atkins and Travis O'Boyle, Tumuaki Takirua of Te Awhoriki, jointly won the Gold Supreme Cultural Excellence Award due to their leadership of the group and their efforts to encourage the growth of Te Ao Māori on campus.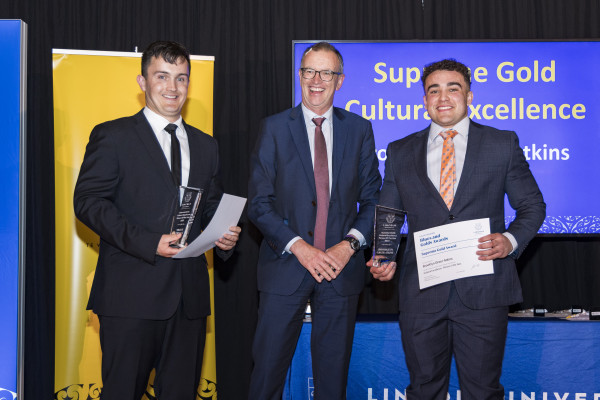 Brooklyn Greer-Atkins and Travis O'Boyle
Congratulations to all the nominees.
You can read the full list of winners here.