Lincoln University to host 2024 South Island Dairy Event, celebrating its 25th event
20 November 2023 | News
The highly-anticipated South Island Dairy Event is returning to Lincoln University on the 25-26 June 2024, marking a significant milestone as it celebrates its 25th event.
The event, a cornerstone of New Zealand's dairy industry, will be chaired by Jonathon Hoets, an equity partner of Kairoa Dairies Limited, a 790-cow farm in Mid Canterbury, for the Rylib Group.
The South Island Dairy Event (SIDE) is a renowned gathering of dairy farmers, rural professionals and industry partners, that offers a platform for networking, knowledge sharing, and showcasing the latest advancements in the dairy sector. The 2024 theme for the two-day conference is "Excelling through Change".
SIDE's rich history dates back to its first event in 1999, and over the years, it has grown to become an invaluable resource for the dairy industry. The decision to return to Lincoln University, the site of the first SIDE event, for its 25th edition reflects the event's commitment to its heritage and the valuable relationship between the university and the dairy community.
Jonathon Hoets, who is the Event Chair for 2024, brings a wealth of experience and knowledge to the role. With a deep understanding of the dairy industry and its evolving landscape, Hoets and his committee of local Mid Canterbury dairy farmers are well-equipped to ensure that the 25th SIDE event is an unparalleled success.
Governance Group Chair, Andrew Slater, expressed his excitement about bringing the event back to Lincoln University. "SIDE has a special place in our hearts, and we are thrilled to celebrate our 25th event at the very place where it all began. Lincoln University has been a steadfast partner in advancing the dairy industry, and we couldn't think of a better location to commemorate this milestone."
The 2024 South Island Dairy Event is poised to feature a robust agenda, including three keynote speakers, interactive workshops, a field trip to view on-farm demonstrations, and a range of knowledgeable industry experts and farmers discussing the latest innovations and information in the dairy sector. It will provide a unique opportunity for industry professionals, researchers, and leading dairy farmers to exchange ideas, best practices, and to collectively drive the industry forward.
Registrations for the 2024 open in April, but for more information about the 2024 South Island Dairy Event, including sponsorship opportunities, please visit www.side.org.nz.
The South Island Dairy Event (SIDE) was established in 1998 to provide a forum for those involved in the South Island dairy industry to evaluate and apply knowledge, skills and technology to their business.
Run by farmers for farmers, SIDE lines up industry experts for keynote addresses, networking sessions and practical workshops in a revitalised format. Presenters include farmers, researchers, consultants, veterinarians, accountants, and scientists. The interactive style of the workshops encourages plenty of discussion and the exchange of ideas. The programme is designed to promote thinking and debate, as well as provide a space for like-minded farmers to network and find inspiration and motivation.SIDE presents a unique opportunity to connect and engage with this diverse group of farmers.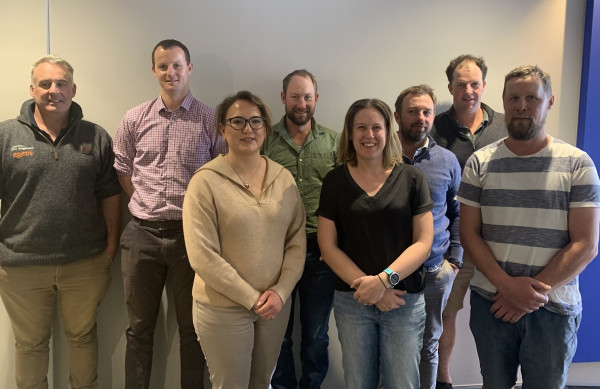 The 2024 SIDE Organising Committee from L-R: Will Perriam-Lampp, Jonathan Hoets, Tracey Perkins, Robin Horblow, Stacey Hoets, Russ Young, Henry Norris, Brad Fallaver
Absent: Anna Hall, Abby Rawcliffe and Michelle Coates