Molly continues family legacy at Lincoln
03 May 2023 | News
Time spent with her grandfather exploring nature helped steer Molly Scott towards science and continuing a family legacy.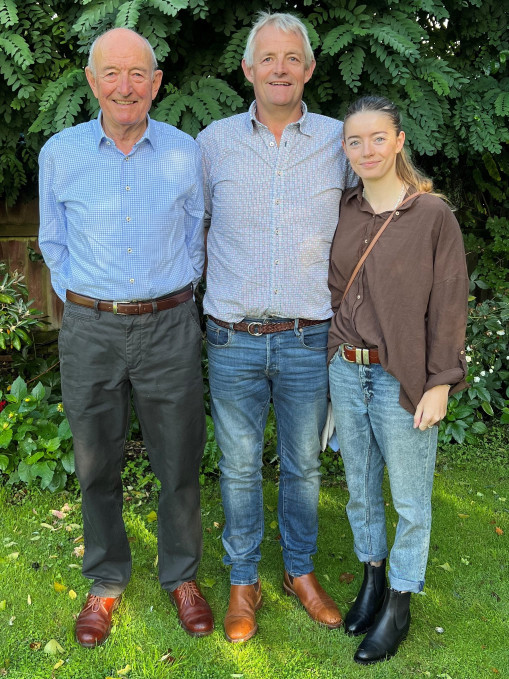 Warwick, Jeremy and Molly Scott.


She will be among the hundreds of Lincoln students graduating in the Christchurch Town Hall on 12 May, where she will receive her Bachelor of Agricultural Science degree.

Molly, now a sales specialist at Fonterra, is the latest Scott to graduate from Lincoln. Her plant scientist grandfather, Warwick, has a PhD in Agronomy and taught at Lincoln for 39 years, dad Jeremy has a Diploma in Farm Management, while younger sister Eve is studying for a Bachelor of Sport and Recreation Management.

"Growing up in Timaru with Dad in the agricultural industry and Grandad lecturing at Lincoln, I became able to identify different species of plants from a young age.

"As a kid, I remember going to Lincoln with Granddad and looking at the trials he was doing, and when going for walks, how he would pick a seed of grass and ask me what it was.

"I enjoyed it, and it led me to take the sciences at school, and to go to Lincoln in 2019 and start my BAgSci."

She veered away from Granddad's footsteps a bit though.

"I kept my degree really broad, taking a range of subjects, however I think the animal part of my study was my favourite.
I remember getting to a point in my study where Granddad would say, 'you are teaching me things about animals now.'
The challenges the COVID pandemic brought to study had some unexpected benefits for Molly.

"My second-year flatting was when COVID came and everything went online.

"I have dyslexia so I liked online learning as I could pause my lectures to be able to keep up with note taking."

The Scotts will all be present to congratulate their newest Lincoln graduate.

"It will be special having three generations there," Molly said.