Rising star's sights set on sports career
08 May 2023 | News
Rookie of the year for Super Rugby Aupiki champions Matatū, Emma Dermody, started at Lincoln University on a netball scholarship.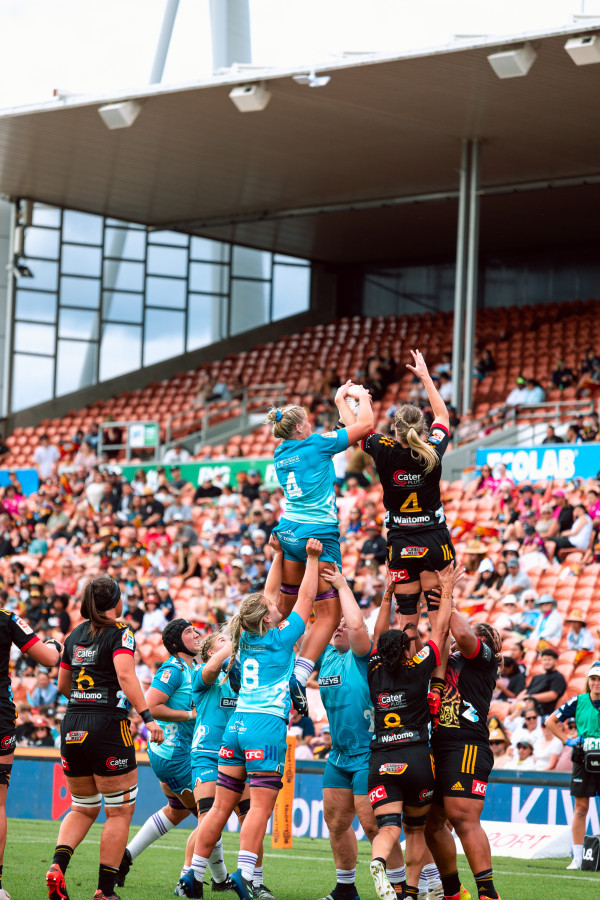 Emma (blue number 4) rises high in the Super Rugby Aupiki final.

She is among the many Sports Scholars graduating on 12 May, though they have a special ceremony of their own the day before, and she will receive a Bachelor of Sport and Recreation Management degree.

The talented sportswoman made the Mainland NNL development group for netball in 2020 but found the oval ball code more to her liking.

"I have played rugby all my life and after a year off, I missed the physicality and team environment the sport provided," she said.

So she switched her Sports Scholarship to rugby and her allegiance to the Ewes, and has been selected for the Canterbury Farah Palmer Cup Side team for the last two years. Her performances then led to a Super Rugby contract in 2022 and 2023 with Matatū.

"I am from a farm in Southland and very into my sport," she said.

"I found that Lincoln was a place with like-minded people in terms of sporting and agricultural backgrounds."
I applied for the Sports Scholarship because of the opportunities it provided, and its pathways into higher level sport in Canterbury.
She wants to extend the professional rugby contract she has had for the last two years.

"My aspirations are to continue working hard with rugby and gain more experience and knowledge to further my career."

However, now armed with the skills and knowledge she gained in her degree, she is also looking to work in the sports industry.

"I would like to help inspire the next generation and allow them to have the opportunities I have had."