Overseas exchange provides running and study opportunities
24 November 2022 | News
George Guerin's overseas exchange is proving a runaway success.
The Bachelor of Commerce (Agriculture and Professional Accounting) student is spending a semester at Colorado State University while continuing his degree at Lincoln.

The Elite Sports Scholar was the New Zealand U20 champion in the 3000 Metres Steeplechase in 2020, and said experiencing a different education system was helping to improve his study skills, but the time away from his regular rugby training had bolstered his running.

He has clocked up some spectacular racing results in the United States, including winning the recent Longview Half Marathon (in a time of one hour, 14 minutes) and this has kindled an ambition to run for New Zealand.

"I'm just trying to train as much as possible without any real expectations. Usually, I would have played rugby in the winter, so this is my first full year of training, which is exciting. In saying that, I would like to run for New Zealand at some point.

"I've been able to meet some really nice people who I have been running with over here, which has been perfect for camaraderie and motivation."

He wanted to get away from the norm and go somewhere completely different, "especially after the Covid-19 lockdowns".
The sporting scene in the United States had drawn him there too.

"It was a huge factor, as I had considered studying over here after high school and being on an athletics team, so this was a great opportunity to get a snapshot at what could have been."

He said the exchange had already had a huge impact on his personal growth and enhanced his study.
Being able to be educated in an entirely different system has improved my study skills and I have found learning about the differences, particularly in taxation and general jurisdiction, interesting.
"I've been able to get to know some of the other international students pretty well and went to Las Vegas and the Grand Canyon. I also shot over to New York to watch the NYC marathon and that was an awesome experience.

"I definitely feel I am now at an advantage over where I would be if I stayed in New Zealand, and I have also formed connections with people from all over the world."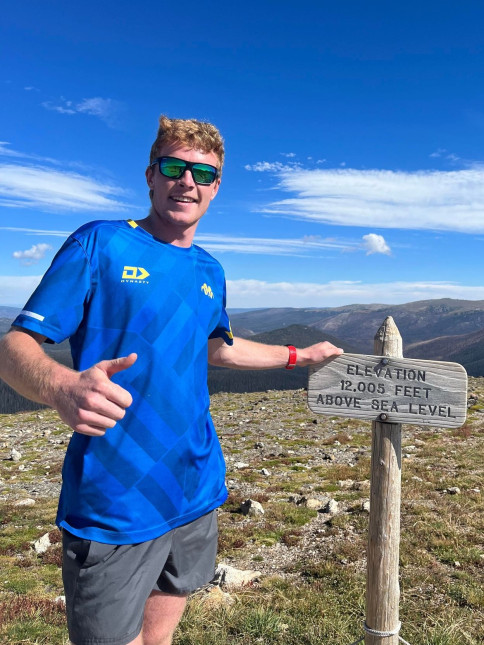 Top: George leads out at the start of a race.
Above: Visiting the Grand Canyon.