Paris-bound rower revels in Lincoln's supportive environment
24 July 2023 | News
Lincoln student Logan Spencer will be racing in the pair for New Zealand at the World Under-19 Rowing Championships in Paris from 2-6 August.
Logan, in the bow or front seat, on the water in the pair.

Logan is in his first-year of a Bachelor of Commerce (Agriculture) degree, and he's enjoying the environment at Lincoln, which he says is encouraging him to succeed in both his studies and his sport.

"To me, balance is extremely important in life, and I feel like at Lincoln, the environment encourages students to perform to their best in all areas.

"From a rowing perspective, this has benefited me greatly."
The support I have received from the university is second to none.
When he was weighing up his options for tertiary study, he thought Lincoln may be "a little too far away from rowing".

"I was worried that this would impact my chances at making teams in the future," Logan said.

"However, I talked to a lot of rowers who were also studying in New Zealand, and I found they all drew upon the common theme of the importance in studying something you enjoy."

It made sense coming from a farming background to study something in that field, he said.

"To me, Lincoln's environment is unmatched. It is smaller in comparison to most universities, but I have found that to be a real positive.

"As a rower, my time can be stretched pretty thin with training camps and travel, especially lately with the seven-week training camp at Lake Karapiro for the Under-19 campaign.

"The lecturers and staff have been extremely accommodating of this and it has certainly made the workload a lot easier."

From a sheep and beef farm in the King Country, Logan was a boarder at St Paul's Collegiate School when he started rowing in Year 9 to keep fit for rugby over the summer.

"I saw it as another challenge for myself and I soon found a passion for rowing, and it began to take priority. In 2021, my rowing started to take off after gaining a silver in the Under-17 double at the Maadi Cup.

"I was also selected for the North Island Under-18 rowing team that season. The following season, I won the Under-18 quad and double at the Maadi Cup in 2022 and had a trial for the NZ Under-19 rowing team, but didn't make the squad."

This season, he won a bronze in the Under-22 pair at nationals with the Waikato Rowing Club, and trialled again.

The selection process was rigorous.

"At the start of the week, there was a 2km ergometer test, and then for the rest of the week there was seat racing. It took around 28 seat races to determine the crews."

While he has big aspirations for his future on the water, his outlook is balanced.

"In the next few years, I aspire to be a part of the NZ Under-23 Rowing team. In the long term, my overall goal is to race at the Olympic Games, ideally aiming for Brisbane 2032 or Los Angeles 2028.

"Career-wise, it would be great to work on the family farm. Rowing is a sport that you can only do at a high level for a small part of your life, so to me it is crucial to have a plan once time is up in the sport.

"I love finding new challenges, and to me, having the opportunity to bring new ideas and knowledge to New Zealand's primary sector is exciting."

He said the next 20 years in agriculture would involve some major changes and "that is why adaptability will be such a crucial element for the sector".

"I feel like my degree at Lincoln is setting me up well for these challenges."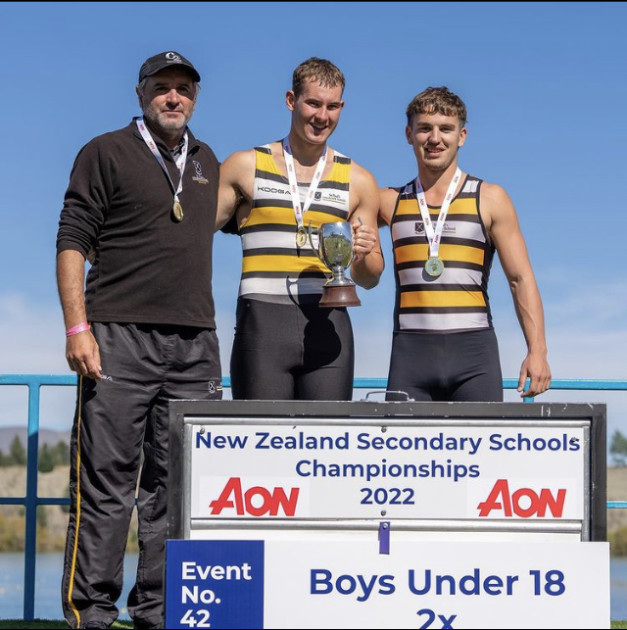 Logan, centre, celebrates his win in the Maadi Cup last year.