Lincoln seed researcher scoops Queen's Birthday honour
08 June 2022 | News
Lincoln University Professor John Hampton's considerable services to agricultural science have been recognised in the 2022 Queen's Birthday and Platinum Jubilee Honours list.
In acknowledgement of his illustrious 48-year career in seed-based agricultural research, Professor Hampton was appointed an Officer of the New Zealand Order of Merit, receiving congratulatory remarks from Minister for Rural Communities Damien O'Connor.

Professor Hampton's research focuses on how climate change affects seed production and quality, and involves searching for biocontrol microbes carried in seeds, as well as helping to better equip plants to cope with external stressors.

He was instrumental in establishing Lincoln University's Seed Research Centre and has acted as its Director since 2008. The centre works with leading seed researchers, industry partners and students to ensure excellence in seed science and technology research, product development and postgraduate studies for the land-based industries.

Amongst his many achievements, Professor Hampton has led a team that discovered and developed a bacterium to be used as a biocontrol agent for the seed-borne disease of brassicas, black rot, along with a bacterium to control the brassica insect pest, diamondback moth.

He also led a team that developed a seed treatment method for applying the bio-control fungus, Trichoderma, significantly increasing the ability of plants to cope with plant pathogens. The treatment is being commercialised with an industry partner.

A Fellow of the NZ Institute of Agricultural and Horticultural Science, Professor Hampton has worked directly on seed projects with farmer co-operatives in Nepal and Afghanistan, more than doubling household incomes for co-operative members.

Lincoln University Vice-Chancellor Professor Grant Edwards described the honour as a testament to the significant contributions that Professor Hampton has made to seed research in Aotearoa New Zealand and globally.

"Seed research is crucial to the agricultural industry, as the seed sector is intrinsically linked to food security and nutrition, livelihoods and sustainable resource use," Professor Edwards said.

"Professor Hampton has dedicated his working life to advancing knowledge on mitigating the effects of climate change on seeds and we are very proud of his achievements. The recognition he has received in the Queen's Birthday honours is very well deserved."

Other Lincoln-affiliated recipients of Queen's Birthday honours include alumnus Harry Earl Pawsey, who received a Queen's Service Medal (QSM) for services to advocacy and conservation, and Kellogg Rural Leadership Programme graduates, Samuel Inder (QSM for services to the community), and Louise Deans (NZ Order of Merit for services to the community and women).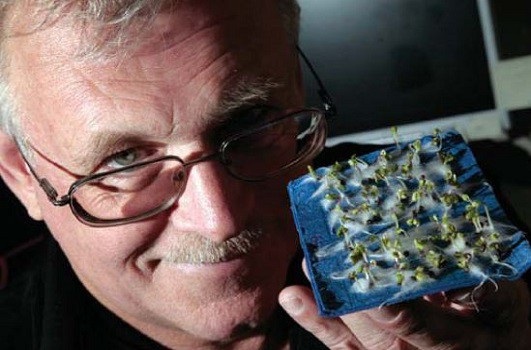 Professor John Hampton's career in seed-based agricultural research spans 48 years. Pictured here in 2007, he is holding turnip seedlings from a germination test that was part of revolutionary research to develop "smart seeds" for forage and vegetable brassica crops that would be capable of naturally resisting pests and diseases without genetic modification or chemical interference.