Scholars heading home to make a difference
14 November 2023 | News
Three graduands, from different nations and areas of study but united by their aim of making a difference at home, were celebrated at a special ceremony today.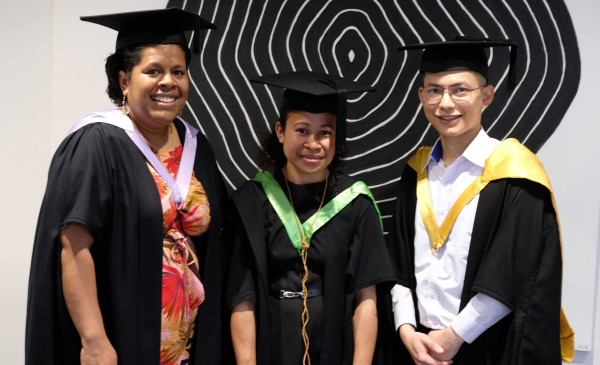 Lavenia Karavaki, left, Helen Moe David and Phoukhaokham Xaymounty

Maanaki NZ scholars Lavenia Karavak, of Fiji, Helen Moe David, of Papua New Guinea (PNG) and Phoukhaokham Xaymounty, of Laos, were feted in front of family and friends, as they are due to return home before next year's Lincoln graduation in May.

The scholarship programme is a partnership between Lincoln University and the Ministry of Foreign Affairs and Trade (MFAT) to bring students from developing nations to New Zealand to grow their skills and knowledge for their home countries' social and economic development.

Lavenia, who completed a Master of Environmental Policy and Management, plans to establish a sustainability consultancy agency in Fiji, Helen wants to use her Master of Horticultural Science to increase food security in PNG, and Phoukhaokham gained a Master of Business (Finance) with the aim of easing the financial challenges facing Laos.

"I hope that my qualification from Lincoln will assist me in becoming an expert in the Lao financial industry, where I have worked for more than 10 years," Phoukhaokham said.

"As Laos is currently facing economic challenges, the strong academic background in global business context it gives will be a tool to ease the impact of the crisis."

Lavenia aspires to utilise her degree to establish an agency dedicated to promoting environmental sustainability in Fiji.

"My goal is to make a meaningful contribution to the protection and preservation of our environment by providing expert guidance and innovative solutions in the realm of environmental policy and management."

Helen wants to help farmers in PNG, with more than 80% of the population earning a living from subsistence agriculture.

"The increase in population and change in weather patterns has impacted food production," she said.

"Food security is becoming an issue where people need to have access to sufficient, safe, affordable, and nutritious food for their wellbeing."

Either as a volunteer or employee in an agriculture organisation, she wants to "apply the knowledge and skills gained from my study in Lincoln University to help PNG farmers understand and adopt new ways of farming practices".

She regarded Lincoln University as a "home away from home".

"It is a very friendly and multi-cultural campus community. It is the smallest university in New Zealand, with more learning environments, where I get to know a lot of people.

"Everyone has a good fun attitude. I would be proud to call myself an adopted Kiwi.

"It's not always been easy, and I sometimes felt homesick. But at the end of the day, I have friends to hang out with, talk to, laugh, and have fun. My stay in Lincoln was one of the most memorable moments of my life."

Lavenia said she had "thoroughly enjoyed the learning experience, immersing myself in my field of study and gaining valuable knowledge".

"Interacting with fellow students from diverse backgrounds has been a rewarding experience, as I've had the opportunity to learn from their unique perspectives and insights.

"Additionally, being in Aotearoa New Zealand has allowed me to appreciate and embrace the rich Māori traditions and culture, which have added a significant dimension to my overall experience.

"It was a challenging journey, but I am deeply grateful for the valuable experience it has afforded me. This is an experience that I will hold dear and carry with me as I return home."

Phoukhaokham said he came to Lincoln to study "because it is one of the world's best small universities".

"In terms of staff numbers, the university has a good proportion of staff to its students when compared to other New Zealand universities.

"Apart from its academic reputation, the environment is great for student life and for studying, as it is quiet."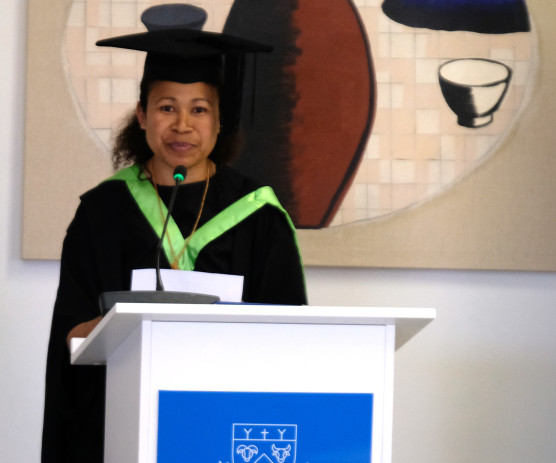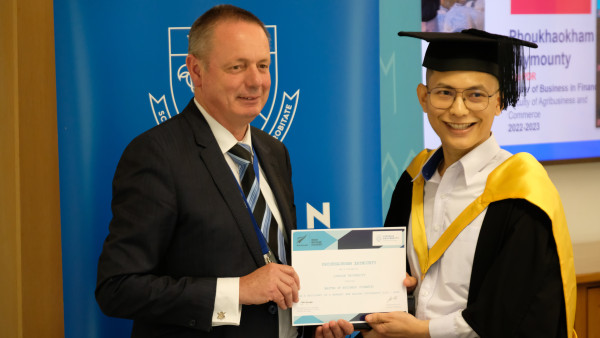 Dr Hamish Cochrane, Director, Student Administration and Student Health, presented certificates to the graduands.