Students respond to call for help from COVID-hit Vanuatu
18 August 2023 | News
The ravages of COVID-19 on Vanuatu saw Lincoln PhD soil science students Julie Gillespie and Lucy Bell embark on a sombre aid mission.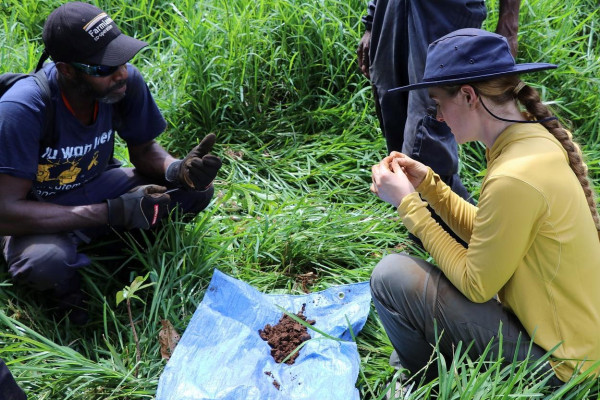 Top: Julie inspects a soil sample
Main pic: Lucy, left, and Julie with workers from the Port Vila City Council.

They responded to a call late last year from Local Government NZ (LGNZ) for two students to go there at short notice to complete a soil suitability survey of land obtained by the Port Vila City Council for use as a cemetery.

This was required urgently as the existing Port Vila cemetery had reached maximum capacity earlier than anticipated.

COVID-19 restrictions prevented the deceased being sent back to their villages for burial, and internments at Port Vila had increased from five a week to five a day.

It all happened quickly, Julie said.
A week after we were asked if we were interested, we boarded the plane and headed over there.
They spent the first two days completing a soil auger survey across the 20ha land area that was being considered, looking at the depth to the underlying rock and properties of the soil, such as colour, proportion of sand, silt and clay, and the structure and strength of the soil.

"From this, we made maps of the site, which highlighted different areas in the landscape where the soils were deep or shallow, and soft and hard. From these maps, we then identified where we wanted to take a better look through digging soil pits," Lucy said.

The underlying rock for most of the area was uplifted coral, with volcanic materials placed over top, which Julie said results in soils that were very stable, and suitable for a new cemetery.

They sent their findings to the Port Vila City Council and planners from the Thames Coromandel District Council designed the layout based on them.

Progress on developing the cemetery was delayed due to the numerous natural disasters that have hit Vanuatu this year, but development of the site has since started with infrastructure now in place and, by checking on the council's social media, it appears the cemetery is almost ready for operation.

The work was very different to anything they had done before, and despite the situation, a valuable experience.

"While we are both very familiar with field work and soil survey, doing it in the jungle, in the wet season in a tropical country was challenging," Julie said.

"We were very fortunate to have a team of workers from the Port Vila City Council assigned to work with us for the week we were there.
They guided us through the dense bush, taught us a lot about the local flora and fauna (particularly what plants to avoid and how to tell if a hornet is angry or not).
Julie said they were also a massive help with the soil auguring and pit digging, "which meant that we could work a lot faster as we could focus on understanding and describing the soils".

"It was a very valuable experience, and we are very grateful to have had this opportunity," Lucy added.