Te Whare Wānaka o Aoraki Lincoln University increases global rank for third year running
29 June 2023 | News
Te Whare Wānaka o Aoraki Lincoln University has lifted its global ranking for the third year running, moving up six places in the 2024 QS World University Rankings.

As a specialised university focused on the land-based sector, Lincoln University is unique amongst tertiary institutions.
Raising its overall position to reach the top 25% of universities worldwide is a strong indicator of the university's increasing influence in shaping the future of the land-based sector in New Zealand and globally.
The university placed 362 out of 1,500 ranked institutions worldwide in the overall QS World University Rankings and placed 62nd globally in the International Faculty Ratio, signalling its strong international appeal to academic staff.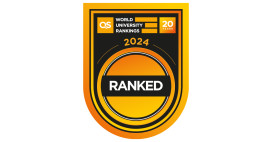 Another key indicator contributing to the university's global reputation is its score for Citations per Faculty, which increased by 105 placings this year, highlighting its upward trend of research productivity and the intimate connection of the quality of its research programmes and their application to real-world problems.

Lincoln achieved its third-highest ranking in the Employment Outcomes performance indicator, with an overall placing of 241st.

Introduced into the QS ranking system as an unweighted indicator in 2023, Employment Outcomes has been elevated to a weighted indicator this year to strengthen the importance placed on employability in the ranking methodology. Lincoln's ranking in this indicator reflects the high level of employability of Lincoln University's students and underlines its position as the university with the highest employment rate in Aotearoa, at 84%.

The Sustainability indicator has been added to the QS Rankings for the first time, in recognition of the growing expectation of students that universities will do more for the environment. Lincoln's Sustainability indicator ranking stands at 379th for this first year of measurement.

Vice-Chancellor Professor Grant Edwards said Lincoln University's improved overall performance was very encouraging, as was the performance of all eight New Zealand universities.

"The last two years have been years of significant growth for Lincoln University – in student head count, in our reputation as a specialist university focused on the land-based sector and in the impact of our world-class education and research. It is pleasing to see this growth reflected in our world rankings.

"The year-on-year increase in our Citations per Faculty ranking underscores the quality and reach of our research, and the extent to which it contributes innovation and new technologies for the benefit of food and fibre industries.

"With a focus on inspiring our students to help grow a more sustainably productive future, Lincoln's education programmes remain at the forefront of global land-based disciplines, and our 84% graduate employment rate confirms our ability to develop market-leading capabilities.

"It is also pleasing to see Sustainability added to the key performance indicators, as this an area where the university can demonstrate considerable global leadership. We are committed to being an exemplar of sustainable practices for land-based sectors, and to making an outstanding contribution to driving sustainable prosperity and intergenerational wellbeing in Aotearoa and beyond."

For further information, contact media@lincoln.ac.nz.
This year's QS World University Rankings is the largest ever, with 1,500 universities across 104 locations, up from 1418 last year. The results account for the distribution and performance of 17.5 million academic papers published between 2017 and 2021 and the 141.6 million citations received by those papers; they also account for the expert opinions of over 144,000 academic faculty and over 98,000 employers around the world.

In celebration of the twentieth anniversary of the ranking and to reflect the growth in data availability and changing priorities of students and society at large over the past two decades, QS has implemented the largest methodological enhancement since its inception, introducing three new metrics: Sustainability, Employment Outcomes and International Research Network, and adjusting the weighting of some existing indicators, namely Academic Reputation, Employer Reputation, and Faculty Student Ratio.

QS' full methodological breakdown for the World University Rankings can be found here.