Towering partnership with Nepal celebrated
01 June 2023 | News
Seventy years ago, Sir Edmund Hillary and Sherpa Tenzing Norgay were the world's most famous celebrities, after becoming the first climbers to reach the summit of Mt Everest on 29 May 1953.
For Hillary, the celebrated achievement of summiting Everest was just the beginning of a long and remarkable relationship with Nepal. Following the trailblazing ascent, he devoted his life to helping the people of the Himalayan nation.
Sir Edmund and Louise Hillary founded the Himalayan Trust in the 1960s to inspire New Zealanders to donate their time and money in support of Nepal, particularly through the establishment of more than 40 schools, hospitals and medical clinics.
Some of the earliest students from those schools went on to study at Lincoln University.
The Himalayan Trust opened its first school in Khumjung in 1961, and a student from that school, Mingma Norbu Sherpa, arrived to study at Lincoln University in 1975.
Mingma Norbu Sherpa completed a Diploma in Parks and Recreation in 1980 and subsequently went on to a distinguished career in conservation work, including with WWF's Himalayan Programme, and was the first Sherpa to serve as Warden of Sagarmatha/Everest after Sir Ed helped establish the park in 1976.
Since the 1970s, the partnership between Lincoln University and Nepal has steadily grown and strengthened, and while this year the world marks 70 years since the first ascent of Everest, Lincoln is also celebrating more than 50 years of Nepali students continuously studying at the University.
Launch of landmark publication
To date more than 50 Nepali students have completed a range of research-based qualifications at Lincoln University, and in many instances have gone on to publish findings in scholarly journals. Their collective body of research, spanning almost 70 years, has now been showcased in a new Lincoln University publication: A bibliographical review of research completed by Nepali students at Lincoln University, New Zealand (1956-2022).
The new bibliography will be officially launched at a special luncheon in Nepal on 3 June, attended by around 30 Lincoln alumni and friends and two of the publication's authors, Emeritus Professor David Simmons CNZM and Associate Professor Stephen Espiner.
The publication demonstrates the extent to which the lives of so many students and alumni have been shaped by their time spent at Lincoln, and how a Lincoln University education and student experience has enabled generations of Nepali students to return with greatly enhanced capacity to contribute to the future development of their homeland.
The bibliography acknowledges Honorary Associate Professor Patrick J Devlin for his devoted service to the education of Nepali students through his supervision and mentorship of almost one-third of all Nepali students studying at Lincoln University.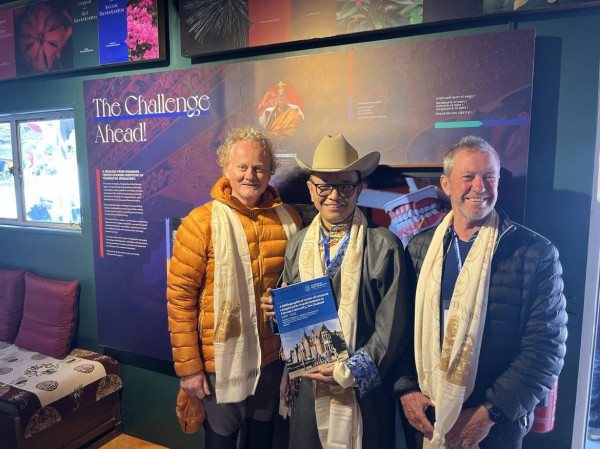 From left: Associate Professor Stephen Espiner, Lincoln alumnus Lhakpa Tenji (holding the Bibliography), Emeritus Professor David Simmons CNZM
Lincoln's contribution to Nepal through education
The research efforts of Nepali students at Lincoln University have spanned most of the University's specialist land-based programmes. Graduates have returned home equipped to make an immediate and significant impact across the spectrum of land-based disciplines, including tourism, environmental management, soil science, plant science, agricultural science, horticultural science, animal science, economics and social science.
Perhaps the most enduring contribution of the Lincoln University/Nepal partnership is the focus on the needs of the local people. Nepali research students are empowered and motivated to make improvements to livelihoods, developing new tools and approaches, building local capability and managing land sustainably.
In Nepal today, Lincoln graduates can be found serving at the highest level of the public and private sector, as well as in community and non-governmental organisations and development agencies.
Reflecting the strength and relevance of Lincoln University programmes, NZ Honorary Consul to Nepal Lisa Choegyal says a large number of alumni serve as decision-makers in the environment, agriculture, forestry, resource management, climate change, wildlife conservation, disaster risk reduction, tourism and mountaineering.
Celebrations in Nepal
The Bibliography launch luncheon is just one of a number of special events being held in Nepal to celebrate the historic 1953 climb by Hillary and Tenzing.
Lincoln University's Emeritus Professor David Simmons CNZM and Associate Professor Stephen Espiner will attend the celebrations along with Former Prime Minister Helen Clark and NZ Honorary Consul to Nepal Lisa Choegyal, who also has strong links to Lincoln University.
Emeritus Professor David Simmons CNZM
Emeritus Professor David Simmons CNZM founded Tourism Studies at Lincoln University in the early 1990s and is a leading tourism scholar nationally, and an internationally recognised tourism expert. He established the Centre of Excellence for Sustainable Tourism at Lincoln, which is focused on generating and supporting sustainable tourism regions.
Professor Simmons' special interest in Nepal dates from his student days where he was the first master's student in the then-Department of Horticulture, Landscape and Parks, which was also host to a group of students from Nepal, including Mingma Norbu Sherpa.
I became friends with the Nepali students through the teachers we had in common and our shared interests in the outdoors, recreation and resource management.
"From those first campus friendships a lifetime of personal and professional involvement with Nepal has followed," said David Simmons.
Mingma Norbu Sherpa Memorial Scholarships
Established in memory of Mingma Norbu Sherpa, who was tragically killed in a helicopter accident in Nepal in 2006, the eponymous scholarship is a partnership between Lincoln University, WWF and the Greater Himalayan Foundation.
These very special scholarships support Nepali students committed to the future of environmental protection and natural resource management in Nepal.
Lincoln alumnus and Mingma Norbu Sherpa Memorial scholar, Tsewang Nuru Sherpa, graduated in 2022 with a Master of Applied Science in Environmental Management, and is currently a research assistant at the University.
Growing up near Mt Everest, Tsewang was passionate about reducing the monumental amount of rubbish that has accumulated on the world's highest peak. His work on the Garbage Deposit Scheme to reduce rubbish left behind on Everest has been seminal, and he also regularly contributes opinion pieces for the Kathmandu Times. His story features in an article entitled From Everest to Aotearoa on the Wilderness website.
Current Mingma Norbu Sherpa Memorial scholar, Roshni Gurung also studying for her Master of Applied Science in Environmental Management, contributed to the Bibliography by creating a map which identifies the research locations of previous Lincoln University Nepali research students.
For media enquiries email media@lincoln.ac.nz or phone 03 325 3827