Triathlon talents testing for new season
17 January 2022 | News
Two exciting triathlon talents were starting their preparation for 2022 at the Sport and Exercise Science Laboratory in the LU Gym last month.
Lincoln University Elite Sports Scholars Sarah McClure and Jack Staples underwent lactate testing to give their coaches data to achieve their maximum performance.
It involved running or pedalling with increasing intensity for around 20 minutes and measuring lactate build-up in blood as their muscles started to perform anaerobically, or without oxygen, as they tired.
Sarah, from Killinchy in Selwyn, is studying for a Bachelor of Sports and Recreation Management degree.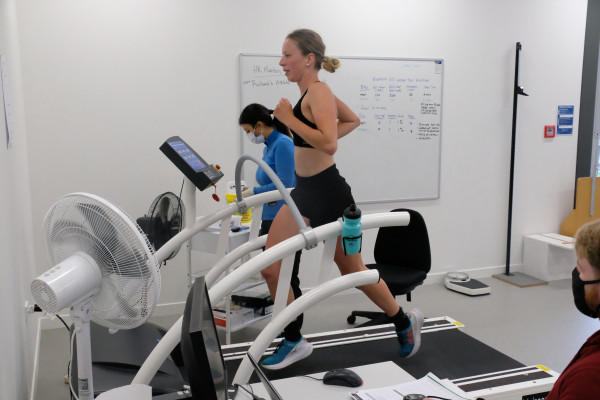 Sarah McClure tests on the treadmill
She was a competitive runner and swimmer as a youngster, then joined the Canterbury triathlon club and developed a love for the sport.
Her results include a podium place at the 2019 New Zealand Secondary School champs, and she has also competed in two races in the Australia junior series in 2019 and recently took part in her first U23/ elite race in Port Douglas in Queensland, the Oceania sprint cup race.
"In 2022 I am planning to compete in many of the local races, as well as the Tri NZ Elite Series and hopefully head over to Australia to compete in the Oceania cup races, " she said.
Jack is doing a Bachelor of Food Marketing and Agribusiness, majoring in supply chain management.
The former St Bede's High School pupil was a competitive swimmer representing his club at nationals from 2017-2019.
"My school head of sport entered me in my first triathlon in YR 13 as she knew I could swim. Showing up using my uncle's tri suit and my dad's old bike I ended up winning the Canterbury secondary schools triathlon with little/no training."
"At that moment I became passionate about the sport. The 2020 season was my first full season doing triathlon which continues to be a main part of my life as well as full-time study."
His 2020-2021 season was a successful one.
He became an elite junior national champion as well as winning the overall junior national series, and was selected to represent New Zealand at the Elite junior world champs in Bermuda but MIQ spots were not available at the time needed so the call was made to not take the team over.
Olympic medallist Hayden Wilde also picked Jack as his training partner in Australia.
"It was a real honour to push him in the swimming pool as well as taking many life learnings from one of the best in the world," he said.
He is also priming for the national series in February, where 4-5 races around the country will take place over a 6 week period, and could head to Europe for competition.
He said the facilities Lincoln provided were "world class".
"These vital tests are used to ensure our training zones are set out leading into the summer season. It also allows my coach and I to see how efficiently my training is for buffering lactate levels.
"They will ensure my training load is not too high to cause injury but within my boundaries where we are able to see good improvements."
Sarah was grateful for Lincoln's support and for "providing amazing facilities".
You can find out more about sports testing in the lab here and the sports scholarship programme here.
Jack Staples tries out the bike in the lab.