Vice-Chancellor tackling unique double role
26 August 2022 | News
Lincoln University Vice-Chancellor, Professor Grant Edwards, is in the unique position of running a university and a provincial sporting side, at the same time.
Professor Edwards stepped up to Vice-Chancellor at Lincoln from his deputy position on 1 January 2022, but will stick with his head coaching role with the Canterbury Cavaliers men's hockey side, which he has held since 2019, after a previous stint from 2007-2011.
"It's great for wellbeing and balance, and I really enjoy coaching," he said.
He relishes working with passionate people, with everyone aiming towards the same goal, figuratively and literally, as Canterbury has not won a national title for 20 years.
This year's National Championships, held over a week in September in Dunedin, will be his first since resuming the role, due to previous pandemic related cancellations.
First up though is the Ōtautahi Cup which starts tonight and runs until Sunday.
He will be coaching some familiar faces, with Lincoln students Louis Beckert, Sam Lints and Charlie Morrison in the squad. Louis is under his charge at club level too, as Professor Edwards also coaches the High School Old Boys senior side.
Professor Edwards' hockey history goes back to his school days in Northland (where he played alongside Sam's father), and after moving to Lincoln to study, he played for the Canterbury and New Zealand Under-21 sides.
Travelling to Britain on a Rhodes Scholarship led to him turning out for Oxford University, and for Reading in the European League for three years.
Returning to New Zealand in 1998 he took up coaching, taking charge of the Canterbury and New Zealand Under-21s, the latter making the World Championship quarter finals in Delhi in 2013. He was also a national selector from 2011-2021.
Lincoln has a history of its leaders undertaking sporting roles, with academic Professor Sir James Stewart in charge of the Canterbury rugby team from 1969-1973, though he only became head, then called the principal, of Lincoln in 1974 after his provincial coaching finished, leaving Professor Edwards alone to claim the double.
Lincoln will be well represented in the upcoming tournaments with students Georgie Mackay-Stewart, Millie Calder and Jessie Anderson also in the Canterbury Cats women's side.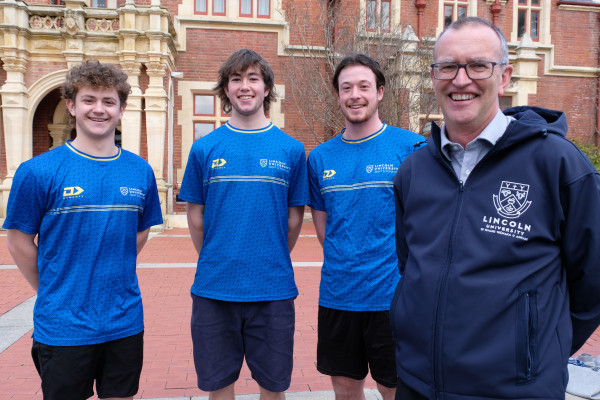 Image: Canterbury Cavaliers Sam Lints, left, Charlie Morrison and Louis Beckert, with their coach and Vice-Chancellor, Professor Grant Edwards.