What will climate change mean for your favourite Pinot?
22 June 2023 | News
Elevated temperatures could influence the quality of Pinot noir grapes during ripening, which has major implications in the face of climate change.
That's according to a study carried out at Lincoln University as part of a Ministry of Business, Innovation and Employment funded programme led by the Bragato Research Institute.

The work conducted by the Lincoln team, which includes Dr Romy Moukarzel, Dr Amber Parker, Dr Olaf Schelezki and Professor Brian Jordan, offers critical insights into climate change impacts for Pinot noir production in the future.

Dr Romy Moukarzel said the main goal of the research was to investigate how temperature changes in controlled environments impacted Pinot noir grape yield and quality.

"Grapevine productivity and berry quality are highly dependent on temperature, which can affect the suitability of varieties for growing regions.

"The effects of climate change have already been observed in recent decades, with earlier harvest dates occurring when temperatures increased significantly."

Modifying the microclimate when the grapes ripened allowed the researchers to explore the impacts of climate change on the accumulation of primary and secondary metabolites.

"This is the first study to provide a detailed analysis of individual amino acids and phenolics in Pinot noir in response to temperature changes during ripening," Dr Moukarzel said.

A higher temperature was shown to increase amino acids, indicating potential changes to the characteristics of Pinot noir, since amino acid profiles may be closely linked to a wine's aroma. In some cases, this could yield a positive outcome.

"Having high specific amino acids at early stages of fermentation can produce wines with good complexity and mouthfeel," Dr Moukarzel said.

"However, any change in amino acid composition can influence yeast growth and fermentation, ultimately impacting wine quality."

Increased temperatures were also shown to have a negative effect on anthocyanins, important for wine colour, which could be detrimental to perceived wine quality in warming climates.

The warmer conditions did not affect the yield of the grapes or cause water loss, as the grapevines were irrigated, meaning water was not a limiting factor.

"While this study has provided interesting insights into the impact of increasing temperatures on Pinot quality, future experiments are needed to assess amino acid accumulations at high temperatures in combination with water stress," Dr Moukarzel said.

"A complex number of environmental and biological factors determine the concentration of metabolites in grapes, and we are just starting to unravel these interactions in the context of climate change."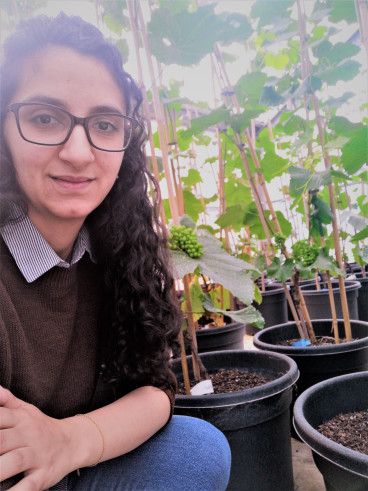 Dr Romy Moukarzel.