International students engage with police for a safer community
27 July 2023 | News
Augrid Thongtamachat is keen to ensure he's abiding by the letter of the law in Aotearoa New Zealand.
The Thai native, who's studying for a Master of Business (Global Management and Marketing), was delighted to be part of a group of Lincoln international students who met and enjoyed coffee yesterday with two ethnic liaison police officers and the local Rolleston constable at the on-campus student space, Grounded.

The event was aimed at proactively engaging with police to foster a safe, inclusive environment for students who are new to New Zealand. Conversations focused on drivers' licences and the New Zealand road rules, as well as being alert to scams.

According to Lincoln University Safer Communities Programme Advisor Alex Michel-Smith, the meeting was designed to support international students to build positive relationships with police officers before they may need to access their services.

"The officers are able to work with the students in a preventative manner," she said.
For many international students, this may have been their first opportunity to have positive interactions with police who are friendly, approachable and aiming to promote safe communities.
Augrid greatly enjoyed speaking with the ethnic liaison officers as a way of facilitating his integration into the local community.

"As international students, it is important that we know the law in New Zealand so we can follow it properly. We don't want to break it," he said.

He and his peers were also clear about their desire to build connections with police to enhance their sense of safety and promote a harmonious atmosphere in the community.

To achieve those aims, the ethnic liaison police officers specifically focus their attention on international students and refugees.

Constables Hadleigh White and Li'Ying Chai are based in central Christchurch but cover the entire Canterbury region and were happy to answer questions from students who attended the event.

Asked how police could assist international students in challenging situations, Constable White said to make contact immediately if they ever feel uncomfortable or unsafe.

He also shared a top tip about navigating the roads in New Zealand: obtain a few lessons from AA and ensure your car is in top shape.

"You might feel comfortable driving, but you also need to be comfortable with the vehicle," he said.

International students who missed the first event will be able to attend a second meeting in Grounded on 20 September.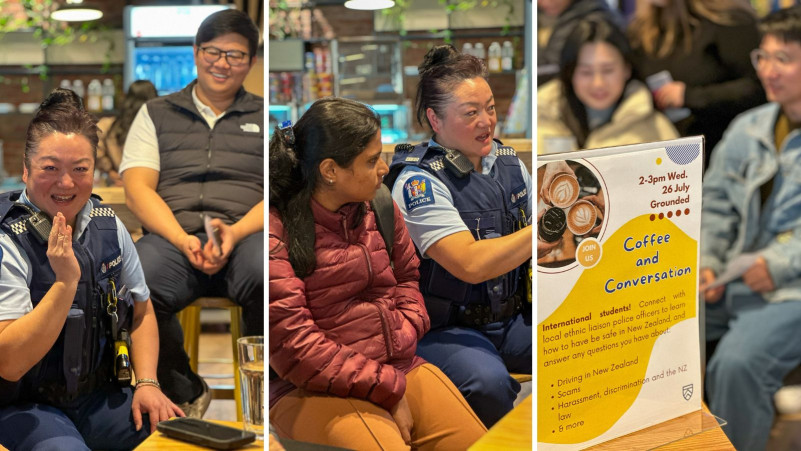 Ethnic liaison police officer, Constable Li'Ying Chai, meets with Augrid Thongtamachat (left) and other international students at Grounded.