Luke dishes out full-flavoured rural knowledge
16 September 2022 | News
Luke Robb has been whipping up ice cream to give youngsters a taste of rural education and put what he learned at the Clinton Global Initiative University into action.
Luke, a Bachelor of Agricultural Science degree student and Future Leader Scholar, is from an urban background and wants to bridge the perceived rural-urban divide.

He has worked with St Patrick's School in Kaiapoi to develop a programme that introduces agriculture to the school's year 5 and 6 students, as well as implementing the practical aspect of his Clinton Global Initiative University programme.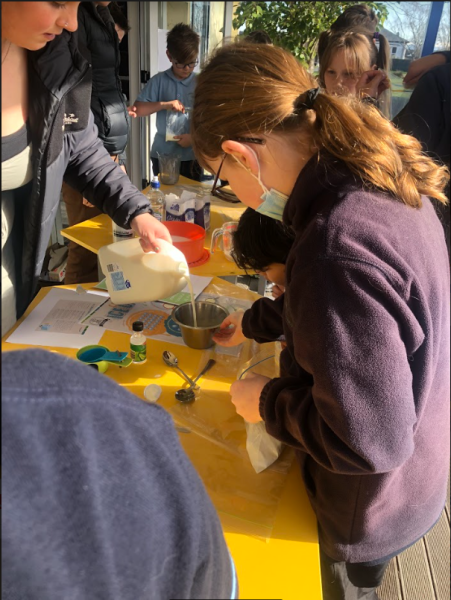 Students mix-up the ice cream.

The school programme included activities such as a mix and match game, animal feeding and making ice-cream in 10 minutes to show the youngsters where their food comes from, with the help of other scholars and representatives from DairyNZ.

The Clinton Global Initiative allowed him to take part in virtual sessions with United States Vice-President Kamala Harris, as well as former President Bill Clinton and former Secretary of State Hillary Clinton.

He gained the skills to address issues such as climate change, environment, democracy, and racial injustice, and participants were asked to come up with actions of their own to implement change.

"At the end of last year, I completed the Clinton Global Initiative University modules which was the theory and learnings behind leadership, social enterprise and making an impact with our projects," Luke said.

"From there onwards, we would be set up with all the learnings we needed to take our projects to the next level, which for me was to implement it."

He developed a workbook with three modules from the DairyNZ Schools resources and worked with the organisation to tailor it the school.

"This took me a good half of the year to develop, then workshop with the teachers and redevelop to get it just right."

The students spent time in class with their teachers to do some more learning about where their food comes from, healthy eating and animal digestion.

They then presented their projects to Luke and fellow student Sam Back, who is a DairyNZ scholar.

The St Patrick's pupils also had a trip out to Claxby farms on the banks of the Waimakariri river to give them an idea of what dairy farming is like (below).

Read more about the project work in the Otago Daily Times here.