Presenting two research topics in Paris special
13 July 2023 | News
Hoani Smith is hitting nothing but net with his basketball-based research, presenting two of his projects at a conference in Paris.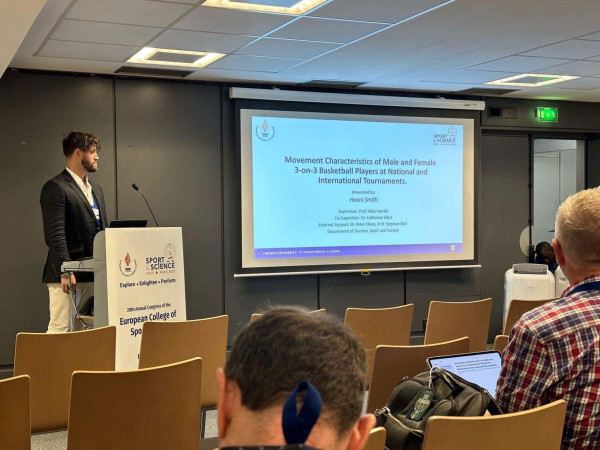 Hoani is a sport and exercise science PhD student at Lincoln and a strength and conditioning coach at the LU Gym, working with the premier men's and women's basketball teams in both 5x5 and 3x3 formats. He also ensures all Sports Scholarship athletes are performing at their absolute best for their respective sports.

He is a recipient of the Lincoln University Aoraki Doctoral Scholarship for Māori, which allows him to work only part-time while studying for his PhD because of the financial assistance the scholarship offers.

Last week, he presented at the European College of Sport Science Congress on movement characteristics in male and female 3x3 basketball players in national and international tournaments. His supervisor, Professor Mike Hamlin, assisted with a poster presentation of Hoani's second project, which covered the reliability of novel indoor GPS tech during basketball simulation tests.

"It's a big event," he said, and it was "special" to be asked to present on two pieces of research.

Hoani has fitted in his research with his job, and said it flowed on from his Master's study.

In particular, he has embraced the 3x3 version of basketball, which Lincoln has performed well at, with the university's women's team winning five out the last six national tertiary titles and consistently attending world tertiary championships. The university has also provided three players to the New Zealand 3x3 team.

Hoani said players in 3x3 were different to their 5x5 counterparts, becoming more specialised. His research also revealed the women's team trained at a higher intensity and outperformed the men.

He said it appeared they worked harder and were more coachable, which may be because they were not a tall team, and could not rely on height as much as the men's team in relation to the opposition, so their coaching strategy relied on running faster and being fitter.

His research also looked at how players could sustain their performance over a long season, and he is working with Basketball New Zealand in the high performance field.

Applications for Lincoln University Scholarships are open until August 15. Find out more here.