Rainbow shines over Blues and Golds
20 October 2022 | News
Rainbow warriors Sophie Williams and Arabella Dudfield had their mahi towards greater awareness of the LGBTQIA+ campus community recognised at the annual Blues and Golds Awards last night.
They jointly won the Supreme Service Gold Award, after being instrumental in the development of rainbow crossings at Lincoln University, as members of the LGBTQIA+ student club SPACE.

They have organised many Pride events, and been voices and advocates for LGBTQIA+ students and in the wider community.

The awards recognise community contributions through volunteering, as well as cultural achievement through the Golds, and sporting excellence through the Blues.

The Supreme Award – Cultural Excellence went to Sahiti Peddisetti, president of the Lincoln University International & Cultural Society Club. She has devoted many hours to planning events and initiatives for Lincoln's international students, ensuring they have a place to connect and support one another, especially during and post-Covid.

Sportsperson of the Year was karate exponent Ella Harris, who was part of the Oceania Championship winning New Zealand women's side, while the Turkey-bound 3X3 women's basketball side won Team of the Year after their national tertiary championship victory this year.

Learn about all the winners here.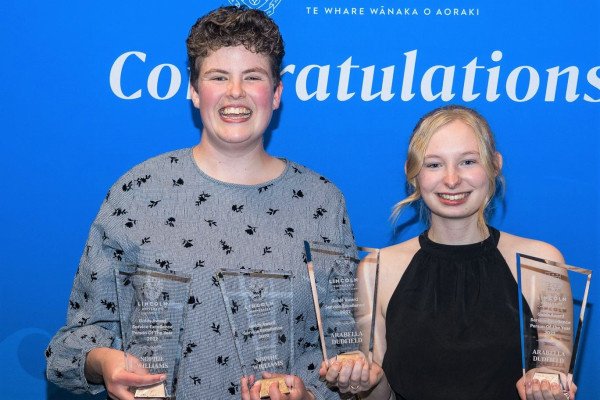 Sophie Williams, left, and Arabella Dudfield celebrate after their win last night.