Recent graduate an inspiration to working parents
26 May 2023 | News
Radhika Jagdip Nagori says her journey to becoming a Lincoln University graduate has been challenging but immensely rewarding.
The Team Manager at ANZ Bank, who completed her Master of Business (Global Management and Marketing) while working full time and raising her three-year-old son, graduated on Friday 12 May 2023.

"Juggling multiple responsibilities was not easy, but I'm grateful for the support of my husband and colleagues," she said. "I'm proud to have accomplished this milestone and to have set an example for my son."

Radhika said the achievement had taught her a lot about the importance of perseverance, time management and prioritisation.

"I'm looking forward to applying my new skills and knowledge in my career and future endeavours. The accomplishment has not only brought me personal fulfilment but has also opened up new career opportunities."

She hopes to inspire others, especially working parents, to pursue their dreams and never give up on their goals.

"It was not an easy feat, but I am grateful for the unwavering support of my husband, who has been my rock throughout this journey," she said.

The Master of Business (Global Management and Marketing) prepares students to successfully conduct business anywhere, giving them skills that are vital to leading business relationships and making them sought-after in any company.

Completing the degree has made Radhika a strong candidate for general management, as well as senior marketing roles overseeing product lines, brand development, retail relationships, distribution, advertising and communications, as well as supply chain management.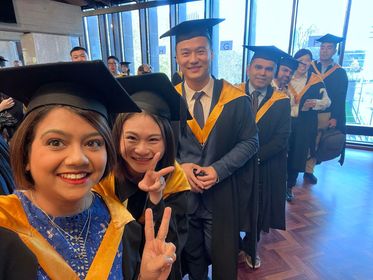 Radhika (front) with some of her classmates at Lincoln University's 2023 graduation event at the Christchurch Town Hall.