Annual food and fibre event serves up a bevy of opportunities
28 August 2023 | News
Lincoln's second Food and Fibre Awards & Networking Dinner catered to an appreciative crowd recently with a celebration of academic excellence and an opportunity for students to meet industry leaders.
The event, held on campus, featured an awards ceremony where Associate Minister for Agriculture and Education, Jo Luxton, honoured the top students in selected programmes.

Twenty-five sector organisations – including Fonterra, AgResearch, Ravensdown, Beef + Lamb New Zealand and PGG Wrightson – sponsored tables, with Silver Fern Farms providing some of New Zealand's finest beef and lamb for the dinner and Rossendale Wines sponsoring the wine on offer during the evening.

A networking session kicked off the evening, allowing industry professionals to liaise with future employees amongst the pool of students in attendance.

According to Event MC Professor Derrick Moot, the initiative came about as a way of connecting students with prospective employers for summer work, internships and career opportunities.

"It's a long overdue event to showcase the positive attributes of the primary sector," he said.

"The family of sponsors includes many major employers and some are represented on the night by recent graduates who provide invaluable insights about what their job involves on a daily basis, which study programmes prepared them for that work and what opportunities are available within the company.

"The companies continue to seek high quality, work ready graduates to support the primary sector, and the event is one way of ensuring students understand the importance of their studies and how they are being prepared for success in the future.

"I was also delighted that some of the farmers who host students for field trips were able to attend the celebration of success."

Aside from showcasing academic prowess and providing networking opportunities, the evening featured a stimulating panel discussion with three successful Lincoln alumni who shared their views on the intricacies of the food and fibre sector.

Wayne and Tyler Langford, creators of the Meat the Need support service, and Wilbur Morrison, co-founder of The Buzz Club range of mead drinks, were interviewed as part of a Q&A session where they all emphasised the importance of making the most of connections and opportunities as they presented themselves.

Wayne, a sixth-generation dairy farmer from Golden Bay, holds a Diploma in Farm Management from Lincoln University and was recently elected national president for Federated Farmers.

Wilbur completed a Bachelor of Agricultural Science with First Class Honours in Soil Science in 2020 and established The Buzz Club that year with a school friend to create award-winning alcohol brewed from native New Zealand honey.

Bachelor of Science student Ella Harris, who won the 2023 Agricultural Science Student of the Year award on the night, said she had a fantastic experience at the event.

"It allowed me time to meet with industry professionals and staff members to explore not only potential workplace options but also expanding into postgraduate study.

"Winning the top student award was definitely a nice surprise. It was awesome to be acknowledged by my faculty and Lincoln University for the hard work myself and all the other winning students put in every day to achieve these results."

Bachelor of Agricultural Science student Archie Woodhouse, who won a Top Student Award, said the event was a great opportunity to celebrate academic success and network with industry professionals.

"Events like this exemplify the advantage that students leaving Lincoln have, the ability to connect with people, whether that be their peers, alumni or industry leaders."

Other sponsors for the evening included Agricom, ANZ, ANZCO Foods, Ballance, Barenbrug NZ, Brophy Knight, Catalyst Performance Agronomy, CRV, DairyNZ, FAR, Farmlands, KS Agri, Kuehne + Nagel, Pamu Farms of New Zealand, Perrin Ag Consultants, PGG Wrightson Seeds, Rabobank, Rossendale Wines and Silver Fern Farms.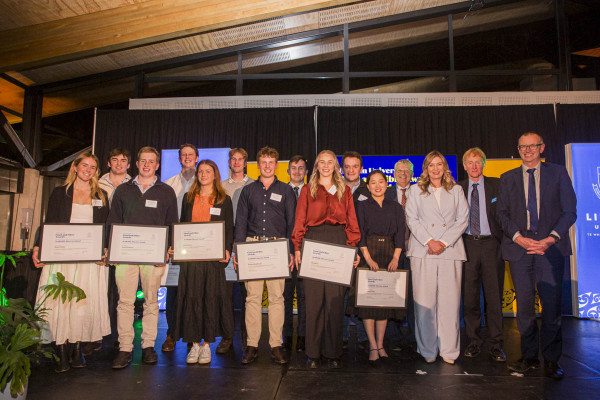 The student award-winners with Vice-Chancellor Professor Grant Edwards (far right), Professor Jim Morton of the Faculty of Agriculture and Life Sciences (second from right), Minister Jo Luxton and Professor Alan Renwick of the Faculty of Agribusiness and Commerce.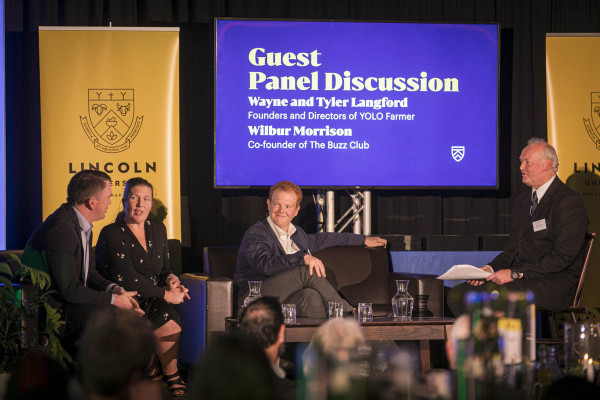 Panellists Wayne and Tyler Langford (left) and Wilbur Morrison with MC Professor Derrick Moot.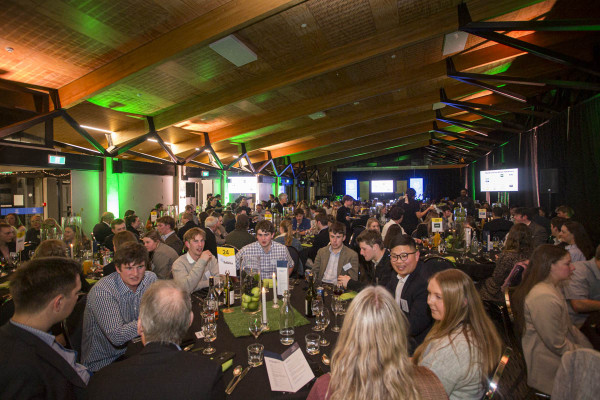 Event attendees enjoy chatting before dinner is served.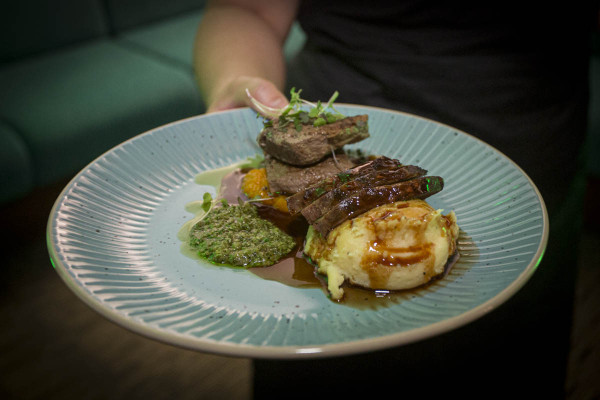 Silver Fern Farms provided some of New Zealand's finest beef and lamb for the dinner.
Full list of student award winners
Faculty of Agriculture and Life Sciences
Jenny Chen – Bachelor of Viticulture and Oenology
Georgia Hill – Bachelor of Viticulture and Oenology
Katie Brown – Bachelor of Science
Ella Harris – Bachelor of Science, 2023 Agricultural Science Student of the Year
Sean Farrell – Bachelor of Agricultural Science
Callum Jamie – Bachelor of Agricultural Science
Archie Woodhouse – Bachelor of Agricultural Science
Faculty of Agribusiness and Commerce
Rose Cottier – Bachelor of Agribusiness and Food Marketing
George Hamilton – Bachelor of Commerce (Agriculture)
Trent Thomson – Bachelor of Land and Property Management, 2023 Overall High Achieving Student
Travis O'Boyle – Bachelor of Land and Property Management
Harrison Grace – Bachelor of Land and Property Management
Jacob Preston – Bachelor of Commerce (Horticulture)