Reporting a COVID-19 case on campus
We're here to support you
To enable the University to provide the welfare support needed while self-isolating, staff and students are required to complete and submit a COVID-19 Response Form in the event of:
Receiving a positive COVID-19 test result

Being notified that they are a Household Contact
Welfare support is available for all students who are self-isolating whether you stay on or off campus.
All information collected is confidential and will only be used for the purpose of providing welfare support.
More information on the University's protection of the privacy of personal information is available here https://www.lincoln.ac.nz/about-us/legal-information/.
Even if you have not been deemed a contact if you do become unwell or develop COVID-19 symptoms you are advised to get a test. Please phone your GP, Student Health or Healthline on 0800 358 5453 to arrange this.
A positive case or household contact can also be reported through the SAFELU app.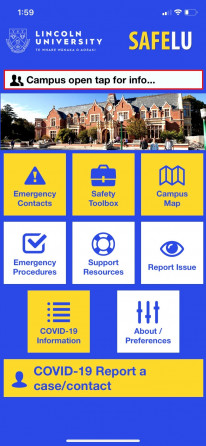 Why has the system been implemented?
A campus-based COVID-19 Reporting process has been initiated to further optimise the safety of our campus environment and help slow down the transmission of the virus.
The process is in addition to the existing safety and preventative measures already in place, including:
Only vaccinated staff and students can access campus

Masks are mandatory indoors
Ensuring a physical distance from others is maintained where possible
Set capacity limits on lectures rooms based on 1m distancing
Encouragement of good hygiene practices
Regular spot checks of student and staff MyVaccine Passes
Keeping windows and doors open where possible to create natural ventilation
Cleaning and disinfecting of frequently touched surfaces
The implementation of University business continuity plans across faculties, business units and services areas.
How the process works
The process has been based on the MoE and MoH guidelines for managing COVID-19 in tertiary settings and begins with the University receiving notification of a positive case on campus. This enables the University to provide the welfare support needed for students and staff who are self-isolating.