Primary sector leader tells students cutting carbon is top priority
01 July 2022 | News
Reducing carbon emissions is the most significant priority for the food and fibre sector at the moment, a recent event to ignite passion in agriculture in students was told.
Mike Peterson, farmer and company director, and a former New Zealand special trade envoy, was a guest speaker at "Inspired by Ag", which brought industry leaders and professionals on campus to discuss topical issues in the primary sector with students.
It was organised by a team of Lincoln University's Future Leader Scholars to ignite the passion they have for agriculture in their fellow students.
Mr Peterson also said it was important to take any environmental challenges head on.
He told the students the demand to be environmentally sustainable was here to stay you so it could be seen as an opportunity to improve a business and meet the expectations of customers.
Event project leaders Niamh Barnett and Penny Grieg said Inspired by Ag provided a space for students to have a facilitated discussion with a renowned industry professional, to give them the opportunity to network and ask questions.
They hoped, in turn, that they feel would feel inspired to enter the agricultural industry.
They described Mr Peterson as "an influential and inspiring member of the sector who has his finger on the pulse and is aware of the current issues and opportunities in the sector".
Area Manager for ASB Rural Canterbury, Tom Norris, also spoke, and discussed career opportunities available in rural banking.
A question and answer session was facilitated by Dr Patrick Aldwell, a former Faculty of Commerce Dean at Lincoln University and current Academic Director for the Kellogg Rural Leaders and Horticultural Leadership programmes.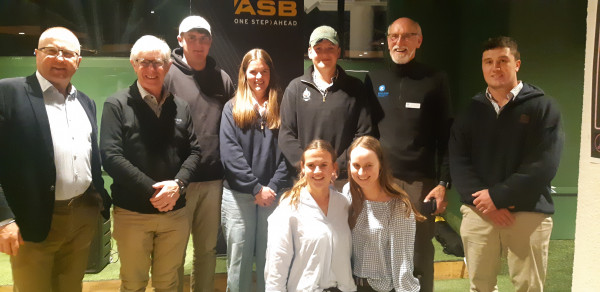 Front: Project leaders Future Leaders (FL) Niamh Barnett, left, and Penny Grieg
Back: Mike Petersen, Tom Norris, Area Manager for ASB Rural Canterbury, Hunter Cottam (FL), Margot Russell (FL), Tom Whiting (FL), Dr Patrick Aldwell, Angus Grant(FL).